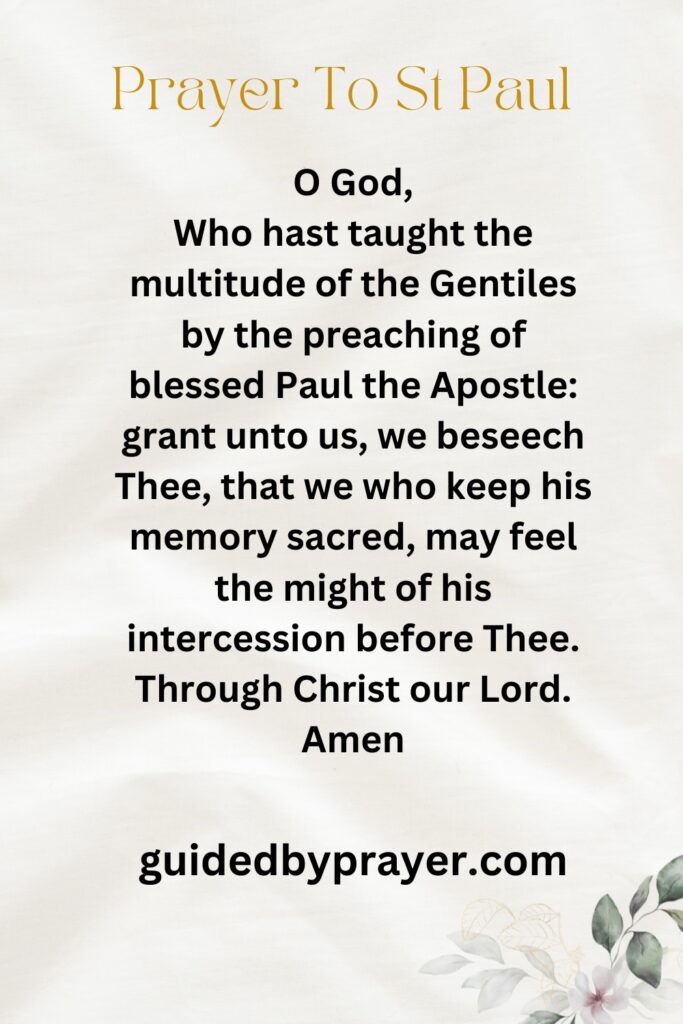 St. Paul is a Christian saint known for his conversion from persecuting Christians to becoming one of the most influential apostles in the early Christian church. The Prayer to St. Paul is a type of prayer that seeks his intercession and guidance in matters related to spiritual growth and personal transformation. It is a way of invoking the power of St. Paul and asking for his assistance in matters related to deepening one's faith, overcoming personal struggles, and becoming a better person. This prayer is often used in religious and spiritual practices related to the Catholic Church and can be a powerful way to connect with the wisdom and guidance of this saint. Whether it is a formal religious prayer or a personal expression of intention, the Prayer to St. Paul can be a valuable tool for individuals seeking to strengthen their faith, overcome personal challenges, and find purpose and meaning in their lives. By seeking guidance and intercession from a higher power, individuals can find courage, inspiration, and hope in their journey towards spiritual growth and personal transformation.
Please read the prayers below which will provide guidance for Prayer To St Paul. May God Bless You!
Prayer To St Paul 1
O God,
Who hast taught the multitude of the Gentiles by the preaching of blessed Paul the Apostle: grant unto us, we beseech Thee, that we who keep his memory sacred, may feel the might of his intercession before Thee. Through Christ our Lord.
Amen.
Prayer To St Paul 2
O Glorious Saint Paul,
After persecuting the Church you became by God's grace its most zealous Apostle. To carry the knowledge of Jesus, our Divine Savior, to the uttermost parts of the earth, you joyfully endured prison, scourging, stoning, and shipwreck, as well as all manner of persecutions culminating in the shedding of the last drop of your blood for our Lord Jesus Christ. Obtain for us the grace to labor strenuously to bring the faith to others and to accept any trials and tribulations that may come our way. Help us to be inspired by your Epistles and to partake of your indomitable love for Jesus, so that after we have finished our course we may join you in praising Him in Heaven for all eternity.
Amen.