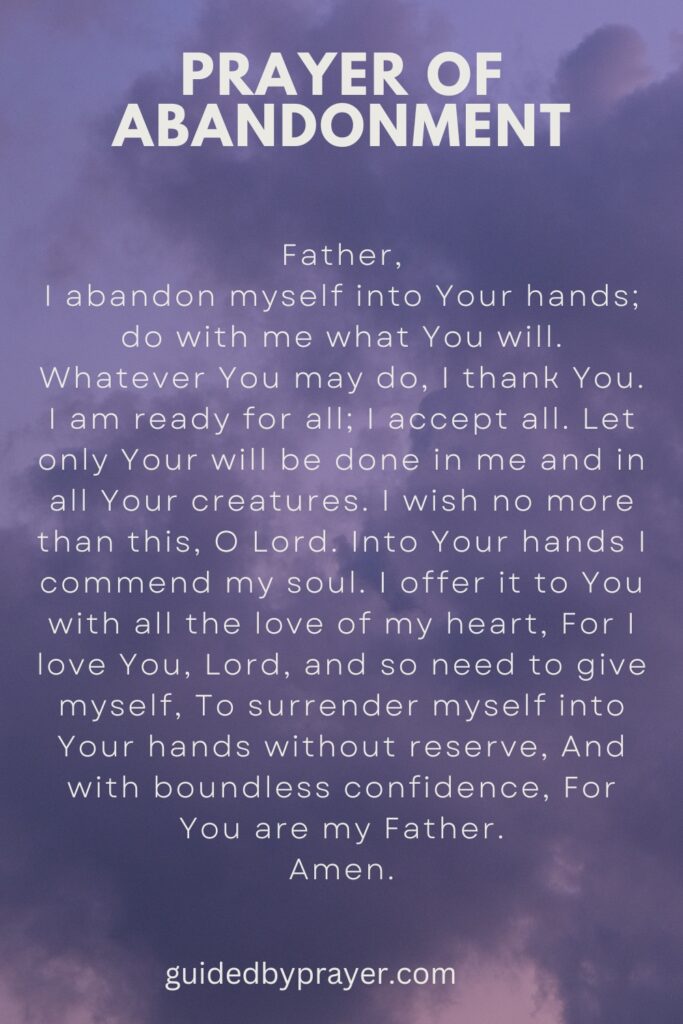 The Prayer of Abandonment is a powerful and profound prayer that has been used by many spiritual seekers throughout history. This prayer is a beautiful expression of surrender and trust in God, in which the person praying lets go of their own will and desires and places themselves completely in the hands of God. The Prayer of Abandonment is often used as a way to deepen one's spiritual connection with God, and to find peace and comfort in times of difficulty or uncertainty. Whether you are a devout believer or simply seeking a deeper understanding of spirituality, the Prayer of Abandonment can offer a powerful and transformative experience.
Please read the prayers below which will provide guidance for Prayer Of Abandonment. May God Bless You!
Prayer Of Abandonment 1
Father,
I abandon myself into Your hands; do with me what You will. Whatever You may do, I thank You. I am ready for all; I accept all. Let only Your will be done in me and in all Your creatures. I wish no more than this, O Lord. Into Your hands I commend my soul. I offer it to You with all the love of my heart, For I love You, Lord, and so need to give myself, To surrender myself into Your hands without reserve, And with boundless confidence, For You are my Father.
Amen.
Prayer Of Abandonment 2
Our Father in heaven,
Hallowed be Your name. Your kingdom come, Your will be done, on earth as it is in heaven. Give us this day our daily bread, and forgive us our debts, as we also have forgiven our debtors. And lead us not into temptation, but deliver us from evil.