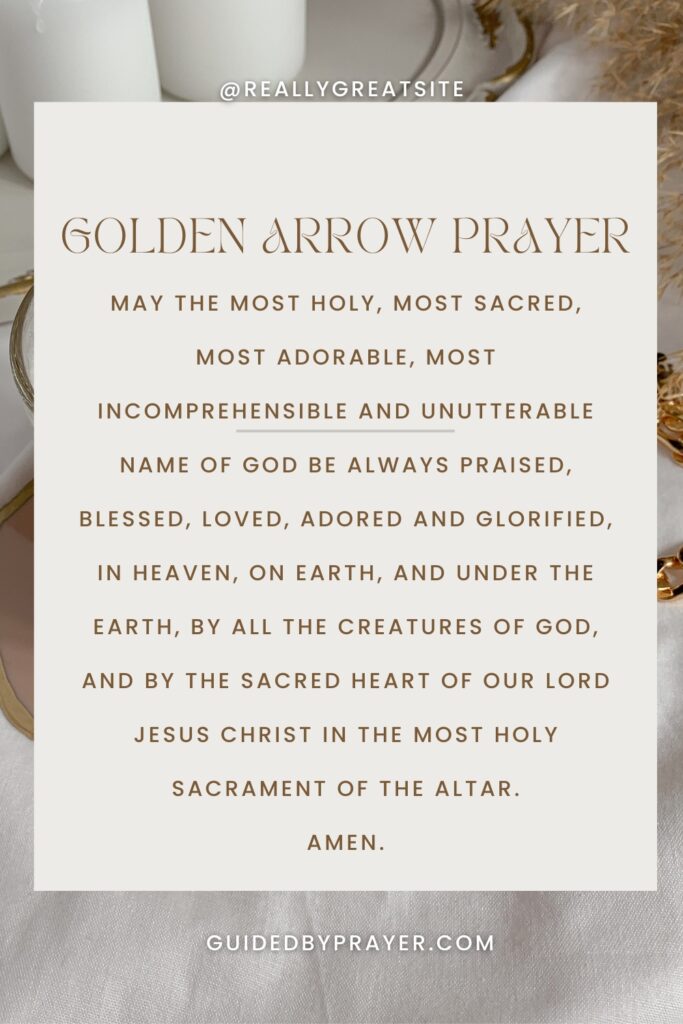 The Golden Arrow prayer is a powerful devotional prayer that has been in use by the Catholic Church for centuries. This prayer is often referred to as the "Perfect Act of Charity" as it is believed to be one of the most pleasing prayers to the heart of Jesus Christ. The prayer is said to have been given to a French nun, Sister Mary of St. Peter, in the 19th century during a series of mystical experiences. The prayer is centered around offering reparation to the Sacred Heart of Jesus for the sins and blasphemies that have been committed against Him. The Golden Arrow prayer is considered to be a powerful tool for seeking God's mercy and grace, and it has been embraced by many as a means of deepening their spiritual connection to Christ. The prayer continues to be recited by Catholics all over the world, and it remains a cherished devotional prayer for man.
Please read the prayers below which will provide guidance for Golden Arrow Prayer. May God Bless You!
Golden Arrow Prayer
May the most holy, most sacred, most adorable, most incomprehensible and unutterable Name of God be always praised, blessed, loved, adored and glorified, in Heaven, on earth, and under the earth, by all the creatures of God, and by the Sacred Heart of Our Lord Jesus Christ in the Most Holy Sacrament of the Altar.
Amen.