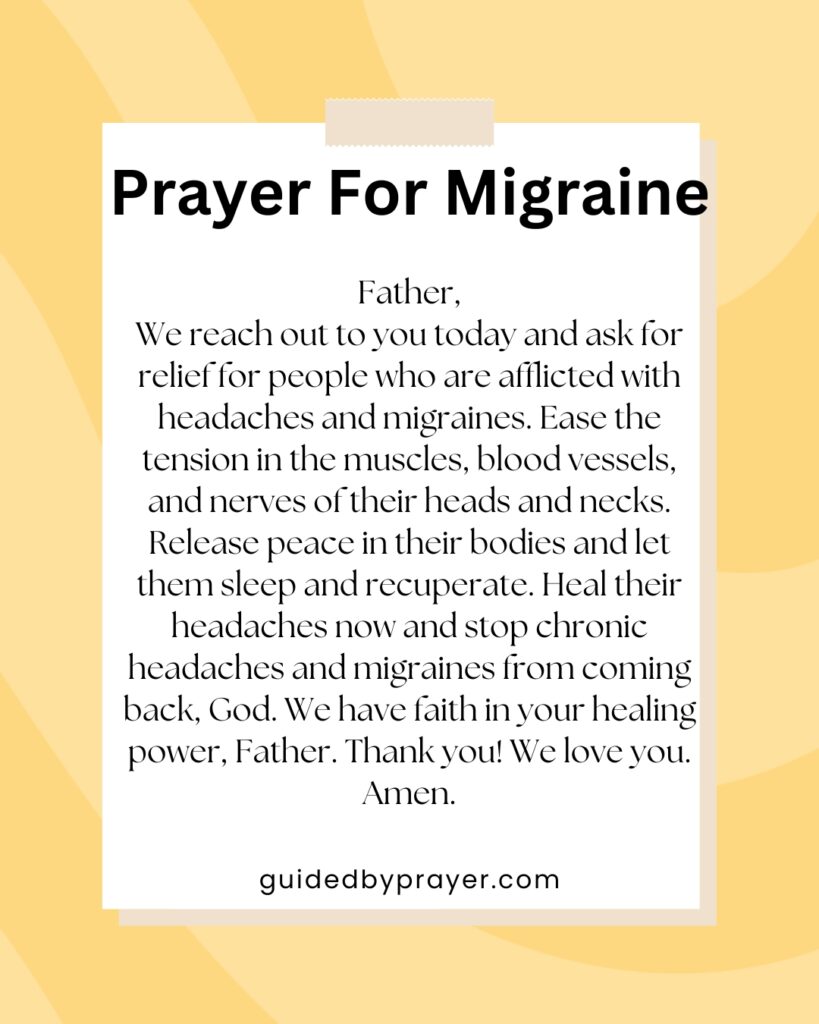 A prayer for migraine is an expression of hope and faith for those who suffer from the debilitating pain and symptoms of migraine headaches. A migraine is a neurological disorder that can cause severe head pain, sensitivity to light and sound, nausea, and other symptoms that can greatly impact one's quality of life. A prayer for migraine may involve asking for relief from the pain and discomfort, for strength to endure the challenges of living with this condition, and for guidance to manage the physical and emotional toll it can take on the body and mind. It may also involve asking for divine intervention to heal the underlying causes of migraines or to provide comfort and peace during times of suffering. A prayer for migraine is a reminder that there is a higher power who can provide comfort and support during difficult times and that one is never alone in their struggles.
Please read the prayers below which will provide guidance for Prayer For Migraine. May God Bless You!
Prayer For Migraine 1
Father,
We reach out to you today and ask for relief for people who are afflicted with headaches and migraines. Ease the tension in the muscles, blood vessels, and nerves of their heads and necks. Release peace in their bodies and let them sleep and recuperate. Heal their headaches now and stop chronic headaches and migraines from coming back, God. We have faith in your healing power, Father. Thank you! We love you.
Amen.
Prayer For Migraine 2
Dear Lord,
Please take away this headache. Although it is not excruciating, it is enough to wear me down. I pray for healing in Jesus name! May your power wash over me, cleanse me, and make me whole! I pray for other wives who may encounter physical pains such as headaches or illness. May you heal them also! Renew our bodies and fill us with energy! I pray that these headaches and other pains would never hinder us from loving others, especially our husbands. Protect our vulnerable bodies from the things in this world that threaten us! Keep us healthy and lively for our marriages and families in Jesus name.
Amen.
Prayer For Migraine 3
Lord,
I know you know what is wrong in my body please heal me and I will be healed. I put all my trust in you Lord, you are my doctor, you are my medicine. I want to leave in abundance of health for your glory. Heal me as you healed King Hezekiah and prolong the days of my life. I have no one else to help me but you. I know you have dominion over every infermity and i believe that you are able to heal me my God. As Your power roars in the waves of the sea , let it roar in me and wipe out every disease and pain. I know you are not a myth, you are the living God.
Amen.
Prayer For Migraine 4
Dear lord,
I love you so very much. You are my everything and I live for you. Please help me with this painful headache heal me with your hand and bless me with your love. Thank you for simply being able to breath and being able to praise you infinitely.
Amen.
Prayer For Migraine 5
Father,
You are light and goodness. You are the eternal source of mercy and compassion. You care for each one You have made. You have all wisdom and power. You have both the capability to heal and the desire to do so. You have all authority over evil and sickness. They devil would have us believe a headache isn't important enough for you to care about, or that he has authority over us. This is not true. He is the liar and Your word is truth. You are willing to heal. You are able to heal. You delight to heal. It brings glory to Jesus and joy to the ones you have made. So please, this day, take away these headaches that I have been suffering from, and the headaches of anyone reading this post–that Jesus might be glorified and that we might joyfully serve and thank You! I pray in the great name of Yeshua.
Amen.
Prayer For Migraine 6
Dear Father,
Your kindness is far beyond what we can imagine! It is not your will for us to be ashamed to show our face. The devil seeks to cover us with shame. Your Word says in Psalm 34: "Those who look to the Lord have radiant faces never darkened with shame." Please, Jesus, be the power behind this prayer for every person seeking Your healing from Rosacea or other skin diseases. May our faces reflect Your light and glory and never be darkened with shame. We love and thank you, God! In Yeshua's name.
Amen.