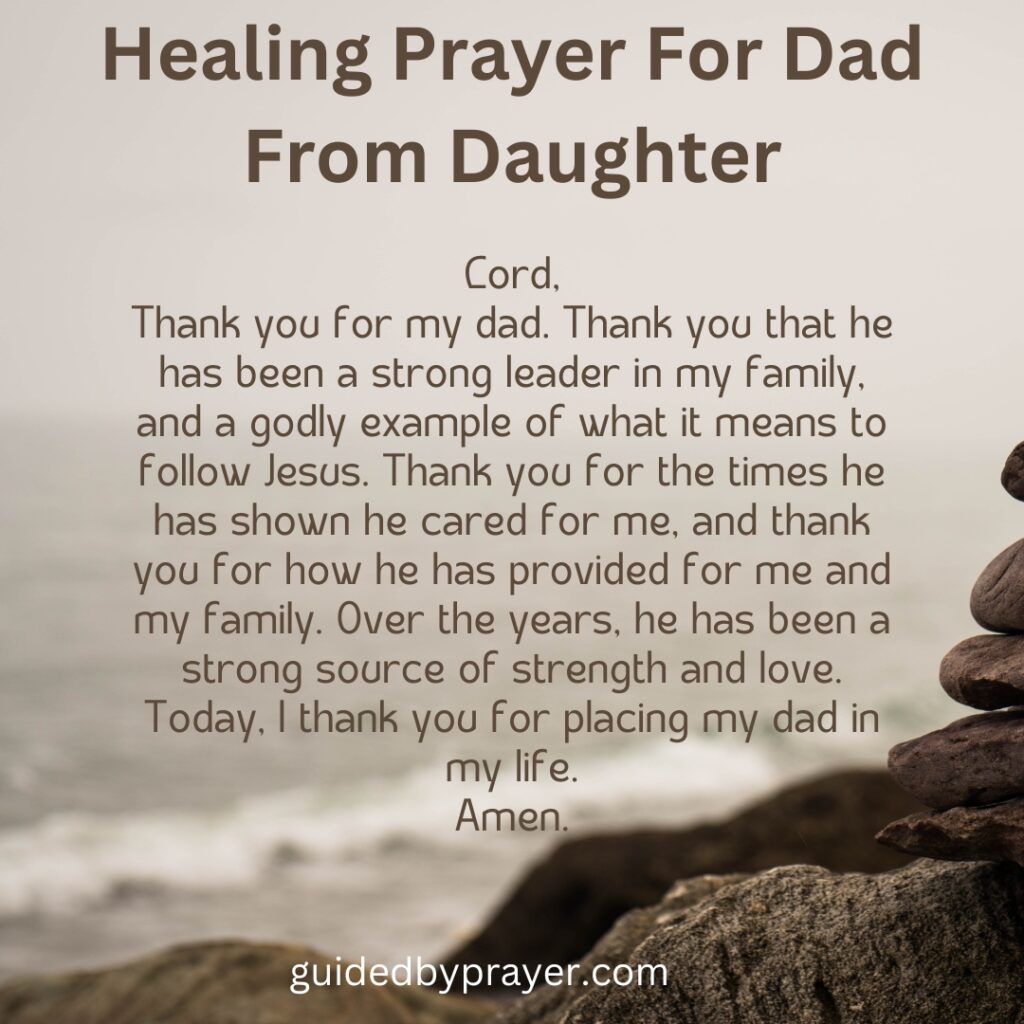 Healing prayer for a dad from a daughter can be a powerful and emotional experience for both the daughter and her father. Through prayer, a daughter can connect with her faith and seek guidance and support for her father's physical, emotional, and spiritual health. She can express her love and concern for her dad and ask for God's intervention and healing touch. The act of prayer can also bring comfort and peace to the daughter as she places her trust in a higher power. It is a reminder that she is not alone in her worries and that there is hope for her father's recovery. Ultimately, healing prayer can strengthen the bond between a daughter and her father as they both turn to their faith in a time of need.
Please read the prayers below which will provide guidance for Healing Prayer For Dad From Daughter. May God Bless You!
Healing Prayer For Dad From Daughter 1
Lord,
Thank you for my dad. Thank you that he has been a strong leader in my family, and a godly example of what it means to follow Jesus. Thank you for the times he has shown he cared for me, and thank you for how he has provided for me and my family. Over the years, he has been a strong source of strength and love. Today, I thank you for placing my dad in my life.
Amen.
Healing Prayer For Dad From Daughter 2
Lord,
I pray a prayer of blessing over my dad today. I honor him as a wonderful man of God, and ask that you will bless him immensely. It is not easy being a strong, loving father in today's culture, and I ask that you equip him with everything he needs to carry out his role as a father with your grace and favor. Bless him to enjoy his life and the fruit of his labor, and bless him to live a long, joy-filled life on this earth.
Amen.
Healing Prayer For Dad From Daughter 3
Lord,
Today I pray a prayer of protection for my dad. Surround him with your shield of protection, and guard his life according to your Word. Protect him physically, spiritually, and emotionally, and give him strength and stamina to overcome the schemes of the enemy. Spread your protection over him, and may he rejoice in you today.
Amen.
Healing Prayer For Dad From Daughter 4
Lord,
Touch my dad today, and bring health and healing to his body. Restore his strength and vigor, and provide him with nourishment in his bones. Give the doctors wisdom and guidance as they give my dad instructions on how to recover from illness. Bless all who work tirelessly to help my dad become whole. In Jesus' name.
Amen.
Healing Prayer For Dad From Daughter 5
Lord,
This morning I lift up my dad to you. I praise you that your steadfast love and mercies are new every morning (Lamentations 3:22-23). Continue to remain faithful to my dad as he puts his trust in you each day. Remind him this morning that you will never leave or forsake him.
Amen.
Healing Prayer For Dad From Daughter 6
Lord,
Thank you for the strong leader you have created my dad to be. You, Jesus, were the greatest leader on earth as you served your people with grace and humility. You led by becoming a servant of all. Help my dad to follow your example of servant-leadership, and to remain self-controlled, respectable, hospitable, loving, and gentle. These leadership qualities are not signs of weakness, but of tremendous strength through you.
Amen.
Healing Prayer For Dad From Daughter 7
Lord,
I thank you for my dad today, on his birthday. Thank you for the role model he has been in my life, and for the example of strong leadership and self-sacrifice. Thank you for his hard- working attitude, diligence, and determination in life to never give up. On his birthday, grant him your peace and joy as we celebrate him today.
Amen.
Healing Prayer For Dad From Daughter 8
Lord,
I ask you to forgive my dad of any sins that he has committed against you or those around him. By your grace and mercy, blot out his transgressions and give him a heart that is righteous and pure. There have been times when we have not not been in fellowship with one another, or have become angry or hurt by one another. Heal and mend our relationship, and draw us together in love and unity.
Amen.