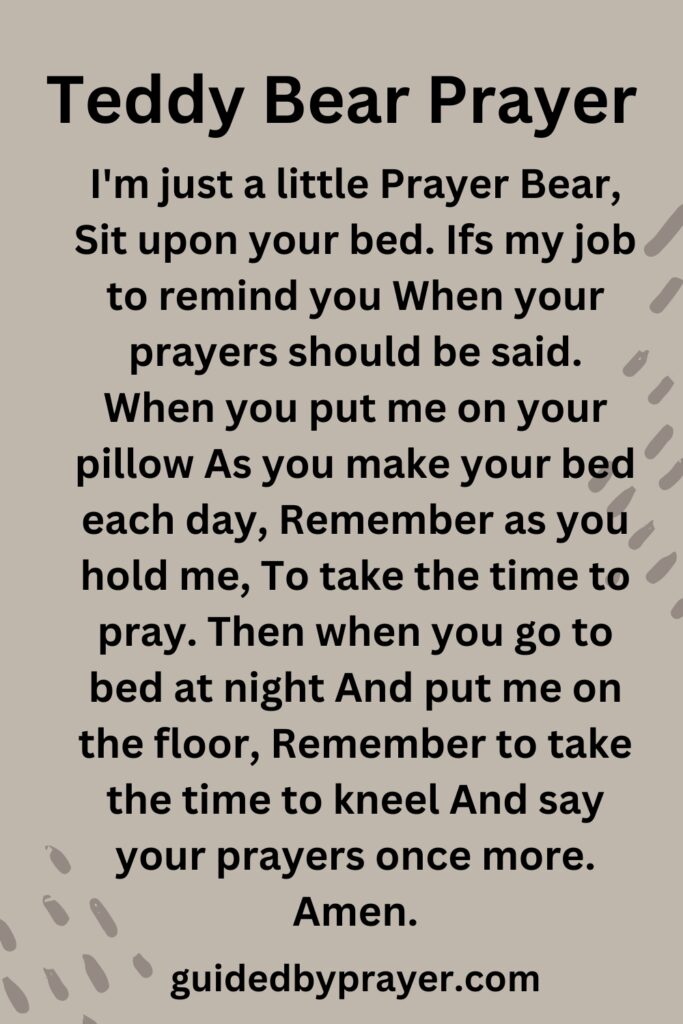 The Teddy Bear Prayer is a heartwarming prayer that is often recited by children as they snuggle up with their favorite teddy bear. This prayer acknowledges the comfort and love that children often find in their stuffed animals, and it encourages them to turn to God in times of fear, loneliness, or sadness. The Teddy Bear Prayer reminds children that they are never truly alone, and that God's love and protection is always with them, even in their most vulnerable moments. This simple yet powerful prayer is a wonderful way to introduce children to the idea of prayer, and to teach them about the importance of faith and trust in God.
Please read the prayers below which will provide guidance for Teddy Bear Prayer. May God Bless You!
Teddy Bear Prayer
I'm just a little Prayer Bear,
Sit upon your bed. Ifs my job to remind you When your prayers should be said. When you put me on your pillow As you make your bed each day, Remember as you hold me, To take the time to pray. Then when you go to bed at night And put me on the floor, Remember to take the time to kneel And say your prayers once more.
Amen.