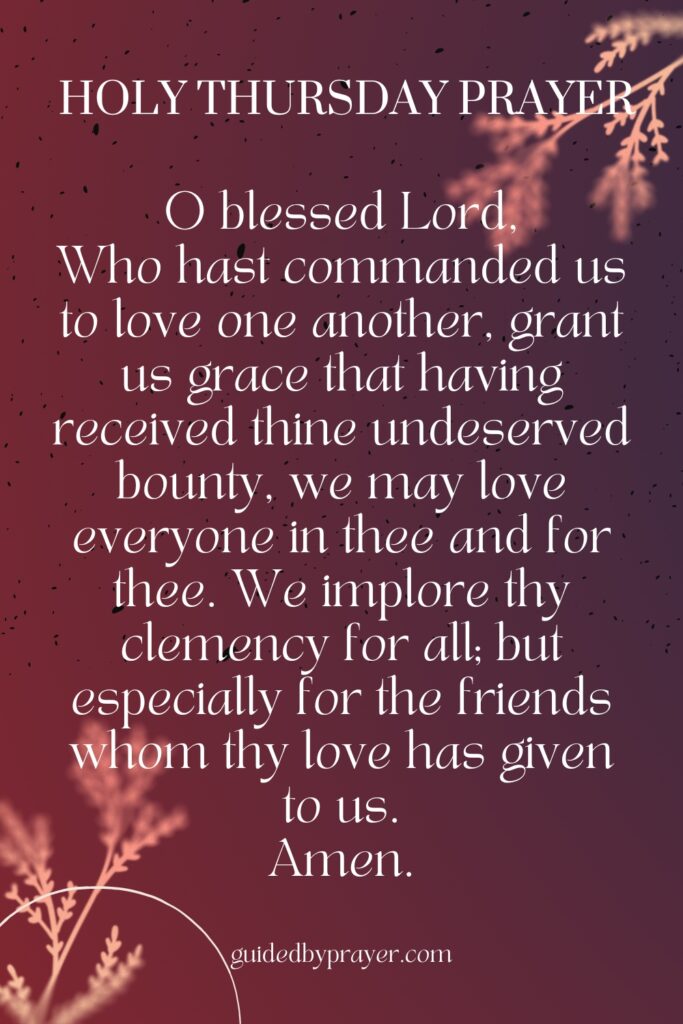 Holy Thursday Prayer is a sacred tradition that is observed by many Christian denominations around the world. It is a special prayer service that is held on the Thursday before Easter Sunday, commemorating the Last Supper of Jesus Christ with his disciples. During this service, believers gather to reflect on the significance of this important event and to offer prayers of thanksgiving and supplication. The Holy Thursday Prayer service typically includes rituals such as the washing of feet, the sharing of bread and wine, and the singing of hymns. It is a time for individuals to deepen their faith and to connect with the divine in a more profound way. The Holy Thursday Prayer is a significant part of the Easter Triduum and marks the beginning of the solemn observance of the passion, death, and resurrection of Jesus Christ.
Please read the prayers below which will provide guidance for Holy Thursday Prayer. May God Bless You!
Holy Thursday Prayer 1
O blessed Lord,
Who hast commanded us to love one another, grant us grace that having received thine undeserved bounty, we may love everyone in thee and for thee. We implore thy clemency for all; but especially for the friends whom thy love has given to us.
Amen.
Holy Thursday Prayer 2
Lord,
When I face the crosses of my own life, give me Your divine courage and strength to say "Yes" to the Will of the Father. Your love for me is abundant and is perfect in every way. Help me to know that love, to embrace it and to allow it into my life.
Amen.
Holy Thursday Prayer 3
Jesus,
Your love is eternal. We offer You a place in our home and in our hearts. Come, help us open our door to You, stay with us. Bring us Your peace and Your joy.
Amen.
Holy Thursday Prayer 4
Lord Jesus,
Your Last Supper is the first Eucharist: You even gave a place to the one who betrayed You. You gave everything to fill the void of Your absence. Blessed are You, O Servant King.
Amen.