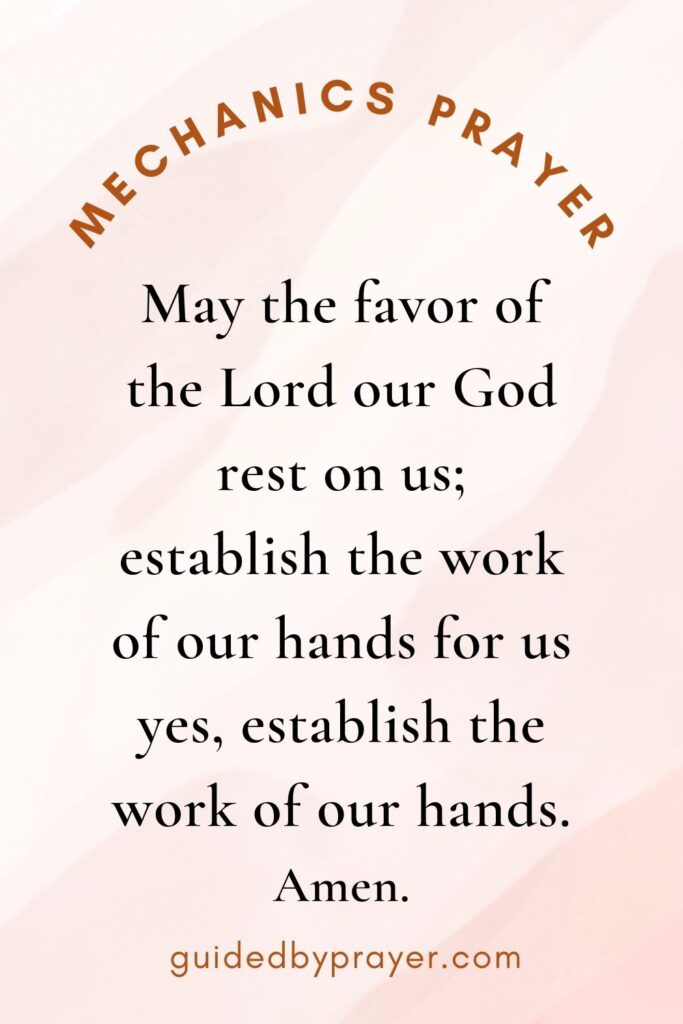 Mechanics Prayer is a heartfelt expression of gratitude and supplication that is often recited by mechanics or automobile technicians. This prayer is a way to seek divine guidance, protection, and wisdom while performing their duties. The Mechanics Prayer acknowledges the significance of their work and the responsibility that comes with it. It also asks for strength to persevere through tough and challenging tasks and to work with integrity and honesty. The prayer serves as a reminder that their work goes beyond just fixing machines, but also helps to keep people safe on the road. The Mechanics Prayer is a symbol of the faith and dedication of mechanics, and it highlights the importance of their role in society.
Please read the prayers below which will provide guidance for Mechanical Prayer. May God Bless You!
Mechanics Prayer 1
May the favor of the Lord our God rest on us;
establish the work of our hands for us
yes, establish the work of our hands.
Amen.
Mechanics Prayer 2
Dear God,
I pray for the auto mechanics out there to be safe. Whether it's lifting something heavy, or being underneath a car on a lift, I pray that nothing bad happens to them as they work.
May you keep them attentive to their surroundings. I pray they double check everything before they get underneath a vehicle. I pray for their tools to function properly and without error so mishaps occur.
I ask that you keep them safe as they drive to and from their jobs. I pray that they get the rest they need and the time they enjoy with their families. They have important jobs and I pray that you keep them safe, through Jesus I pray.
Amen.
Mechanics Prayer 3
God,
I pray for my auto mechanic, Mike. He works so hard each day and I can see that he loves his job. I want to give you thanks for guiding me to him. I've had bad experiences with mechanics in the past, so to find one that is knowledgeable and trustworthy is such a blessing!
I pray for Mike and for his business, that you would prosper him and bring him new customers. I pray for his family as he works long hours to make sure each car and customer is taken care of well. I pray that others will recognize his good work and tell him, like I did yesterday.
I pray that you keep Mike and all of his workers safe each day as they lift heavy tires and step in and out under cars on lifts. Guide them with clear thinking and accumulated experience. I pray all of this in the name of Jesus.
Amen.
Mechanics Prayer 4
Lord,
I pray for my husband as he goes off to work today. He is an auto mechanic at a shop here in town and he's been having a rough time. The shop is down one mechanic so everyone, including my husband, has had to work extra hours to pick up the slack.
He's worn out when he gets home each night. I pray that he gets deep and renewing sleep each night. I pray for him today, that he is alert and that you direct his mind to the problem at hand with each car he works on. Please keep him safe on his drive in, during his shift, and on his drive home.
Please help the shop find another competent mechanic, or bring one to them, and soon. The extra pay is nice and all, but even the owner knows he can't keep up this kind of pace with everyone. Thank you that they have a bustling business and plenty of customers, but please help my husband in his job today. In Jesus' name.
Amen.
Mechanics Prayer 5
Lord Jesus,
I finally discovered what I want to do for a job! I've always loved cars and fiddling around with them and now I am about to start official training to become an auto mechanic! I'm so excited!
I thank you for helping me find the right training program as well as the way to pay for all of the schooling. It's a commitment of time but I am ready to do it and eager to begin.
I pray for my instructors and fellow students that they teach well and that we learn well. I pray way ahead of when I'll be finishing–that you help me find a good mechanic's job when I graduate. Thank you for this opportunity, God.
Amen.