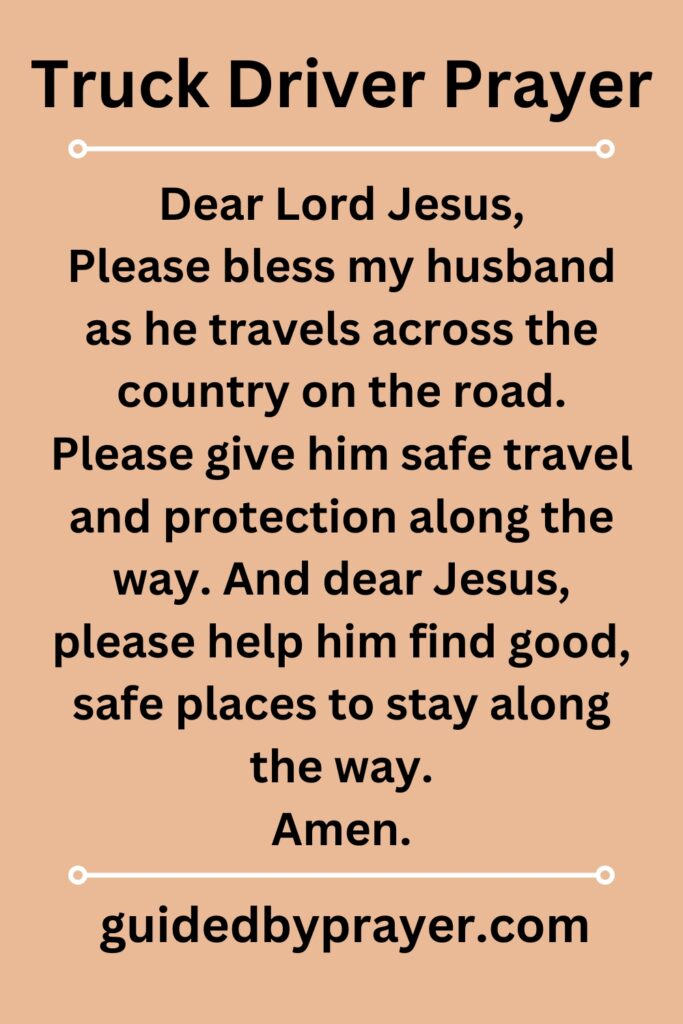 Truck drivers spend countless hours on the road, navigating through different routes, weather conditions, and traffic. This can be a stressful and tiring experience, but with the help of prayer, they can find comfort and guidance on their journey. The Truck Driver Prayer is a powerful and heartfelt plea to God for protection and guidance, asking for strength to overcome the challenges of the road and reach their destination safely. This prayer can provide truck drivers with a sense of peace and assurance, knowing that they are not alone on their journey.
Please read the prayers below which will provide guidance for Truck Driver Prayer. May God Bless You!
Truck Driver Prayer 1
Dear Lord Jesus,
Thank you for my husband. He is a great provider and a good father. He loves me and our children with all his heart. He is a good worker and a good provider. He is a loving husband and a faithful Christian.Lord, please bless him as he drives long distances in order to support our family. Please give him strength and patience as he travels far from home. Help him to be safe on the road and to find rest at night.
Amen.
Truck Driver Prayer 2
Dear Lord Jesus,
Please bless my husband as he travels across the country on the road. Please give him safe travel and protection along the way. And dear Jesus, please help him find good, safe places to stay along the way.
Amen.
Truck Driver Prayer 3
Lord God Almighty,
We ask your blessing upon our husbands as they drive their big rigs across America. We know that many times they have to work late into the evening hours.But we also know that when they get back home, they're exhausted. They need Your peace and comfort so that they can sleep well at night. Thank You for sending us such wonderful husbands. In Jesus' name.
Amen.
Truck Driver Prayer 4
Father God, we praise You today for giving us a man like (insert your husband's name here). A man who works hard every day just to provide food for his wife and kids. We love how much he cares for us.Father, we pray that you will continue to bless him as he continues to serve You by serving others. May he always remember what an awesome gift You've given him. In Jesus' name we pray.
Amen.
Truck Driver Prayer 5
Lord,
As my husband drives his truck across the country I pray that you will watch over him and be with him. Please keep him safe as he drives. Please protect him from any accidents, injuries or illness. Also, please make sure that he is healthy enough to do his job when it comes time for him to return home. Lord, help my husband know how much I love him and how much I am praying for him. May he feel my love, support and prayers in Jesus' name.
Amen.
Truck Driver Prayer 6
Dear Lord,
I pray that you will bless my husband today as he drives his truck around the country. Please be with him on this journey. Give him safe travel and protection against accidents on the road. Keep him out of harm's way since he is travelling so far from our home. Please allow him to feel safe and protected as he is on the road today. In Jesus' name I pray.
Amen.
Truck Driver Prayer 7
Dear God, please bless my husband as he travels over our beautiful country. Thank you for giving us men who are willing to drive trucks in order to provide for their families.Help him to be careful on the road and safe from any accidents or illness. Keep him healthy and strong so that he may safely return home to us. In Jesus' name we pray.
Amen.