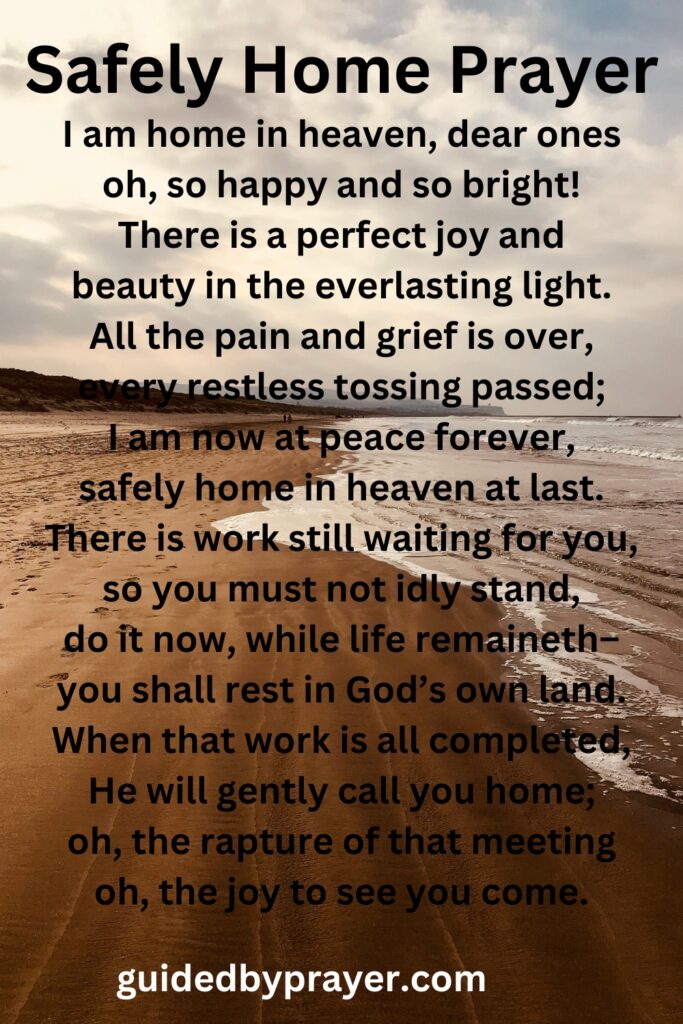 The Safely Home Prayer is a prayer that is often recited by those who have lost a loved one and are seeking comfort and solace in their grief. This prayer acknowledges the pain of loss and asks for help and guidance for the departed loved one on their journey to eternal life. It also offers comfort to those left behind, asking for strength and courage to face the difficult days ahead. The Safely Home Prayer is a powerful reminder that even in times of grief and loss, faith can provide comfort and hope, and that the love we share with our departed loved ones endures beyond death. This prayer is a way for those who are mourning to connect with their faith and find solace in the knowledge that their loved one is safe and at peace.
Please read the prayers below which will provide guidance for Safely Home Prayer. May God Bless You!
Safely Home Prayer
I am home in heaven, dear ones
oh, so happy and so bright!
There is a perfect joy and
beauty in the everlasting light.
All the pain and grief is over,
every restless tossing passed;
I am now at peace forever,
safely home in heaven at last.
There is work still waiting for you,
so you must not idly stand,
do it now, while life remaineth–
you shall rest in God's own land.
When that work is all completed,
He will gently call you home;
oh, the rapture of that meeting
oh, the joy to see you come.