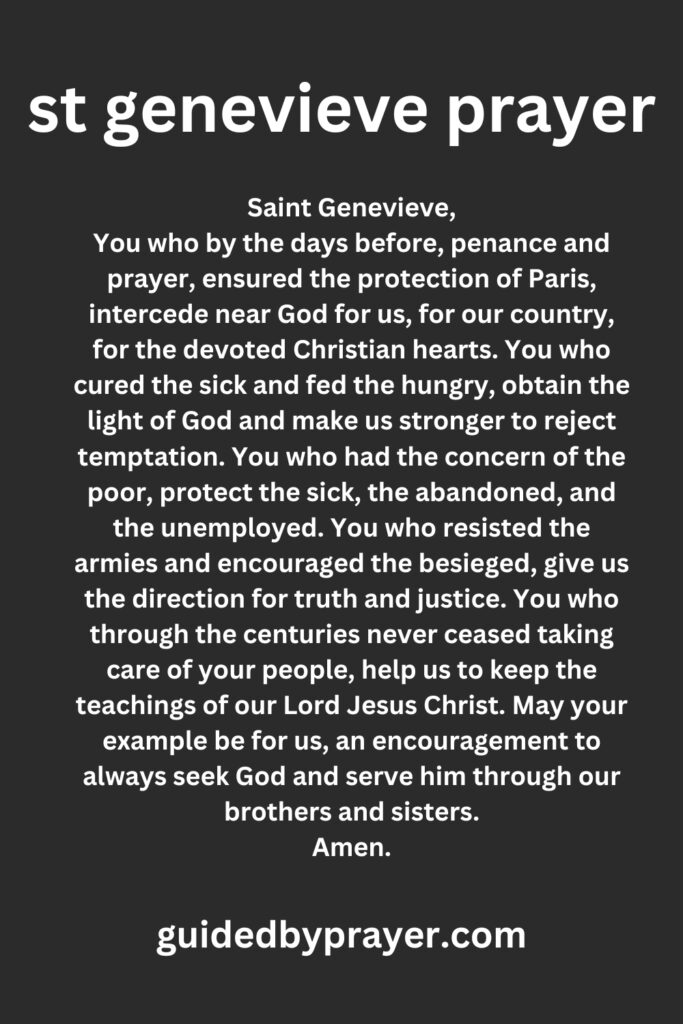 The St Genevieve Prayer is a popular prayer in the Catholic Church that is often recited in times of distress or difficulty. Saint Genevieve was a patron saint of Paris, known for her dedication to prayer and her miraculous powers of healing and protection. The prayer itself asks for her intercession and invokes her protection against various forms of harm, including physical illness, spiritual temptation, and danger from enemies. The prayer is said to be particularly powerful when recited in times of great need or in times of danger. Many Catholics believe that Saint Genevieve is a powerful advocate for those who pray to her, and that her intercession can bring about miraculous healing and protection. As such, the St Genevieve Prayer has become a beloved and widely used prayer within the Catholic Church.
Please read the prayers below which will provide guidance for St Genevieve Prayer. May God Bless You!
St Genevieve Prayer
Saint Genevieve,
You who by the days before, penance and prayer, ensured the protection of Paris, intercede near God for us, for our country, for the devoted Christian hearts. You who cured the sick and fed the hungry, obtain the light of God and make us stronger to reject temptation. You who had the concern of the poor, protect the sick, the abandoned, and the unemployed. You who resisted the armies and encouraged the besieged, give us the direction for truth and justice. You who through the centuries never ceased taking care of your people, help us to keep the teachings of our Lord Jesus Christ. May your example be for us, an encouragement to always seek God and serve him through our brothers and sisters.
Amen.