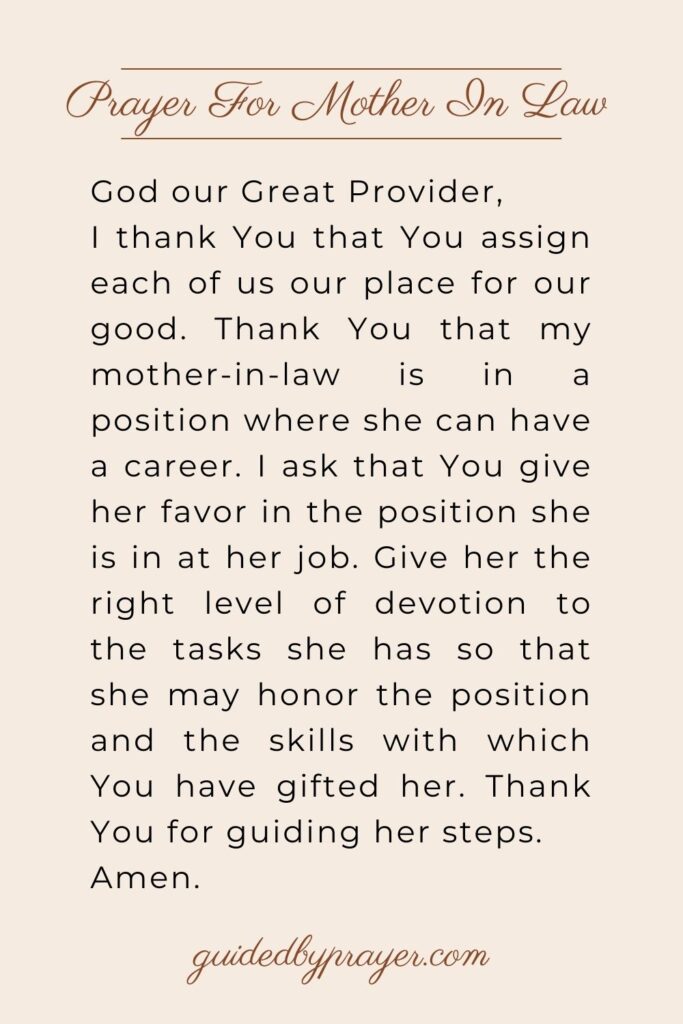 A mother-in-law is a special person in the life of a married individual. She plays an important role in the family dynamic, offering love, support, and guidance. As such, it is only natural to want to show appreciation and gratitude for all that she does. One way to do this is through prayer. A prayer for mother-in-law can express love, thanks, and offer blessings for her health and well-being. It is a powerful way to connect with the divine and ask for the continued happiness and safety of this special person in your life.
Please read the prayers below which will provide guidance for Prayer For Mother In Law. May God Bless You!
Prayer For Mother In Law 1
Jesus,
The Great Physician, today, I am grateful for my mother-in-law. I desire that she would live a long life of good health so that her grandchildren would get to grow up knowing and enjoying her. Relieve her of any aches and pain, so that her body may not be weary, but rested. Fill her mind with Your truth, so that her mind may be renewed. Cause her to see Your countless blessings, so that her heart may leap for joy. Give her faith for today, so that her spirit may be refreshed. I pray in Jesus' mighty name.
Amen.
Prayer For Mother In Law 2
O God,
My Promise-Keeper, You are so good to have provided marriage for humankind. These days, marriage is not always held in high esteem, and yet I am encouraged that my in-laws have remained together. I pray that they would only grow stronger together, that even though their faces become marked with age, their love would keep them young. I ask that they continue to be an example to my wife and me in our marriage. I pray in the name of Jesus.
Amen.
Prayer For Mother In Law 3
God our Great Provider,
I thank You that You assign each of us our place for our good. Thank You that my mother-in-law is in a position where she can have a career. I ask that You give her favor in the position she is in at her job. Give her the right level of devotion to the tasks she has so that she may honor the position and the skills with which You have gifted her. Thank You for guiding her steps.
Amen.
Prayer For Mother In Law 4
God of Enduring Faithfulness,
I ask that You reveal Yourself even more to my mother-in-law. You have revealed Yourself in creation, and You reveal Yourself in Your Word. I also know that Your people love You because You have loved us first. I ask that You give my mother-in-law an increased love for You and Your Word. May it shine out of every facet of her life. Give her a deep love for You and a solid routine of spending time with You. May she have such an obvious quality of godliness in everything she does.
Amen.
Prayer For Mother In Law 5
Lord, our Peace-Bringer,
You are the God who gives good gifts to His children. I ask that You give an increase of wisdom to my mother-in-law. Lord give her the ability to make prudent decisions in times where discernment is needed. In cases of conflict, I ask that she rightfully arbitrates right from wrong. Help her to be a peacemaker and someone who brings people together. Thank You for the example that You set before us in Jesus, who reconciled us to You by His death. Amen.
Prayer For Mother In Law 6
My Father God,
You have blessed me greatly with a second mother. I celebrate my mother-in-law's life today. She is one-of-a-kind, and her presence has added to my life. Of all the gifts she is to receive today, I thank You especially for the gift of life for this very day. Her every breath is sustained by You, and all the days of her life were recorded in Your book before any one of them came to be. Every good and perfect gift comes from You.
Amen.
Prayer For Mother In Law 7
Jesus, my Savior,
You know our lives from the dramatic to the everyday. Lord, I ask for my mother-in-law's everyday hobbies. May they be a positive creative outlet for her. I pray that this continues to be a way for her to relieve stress and enjoy Your creation. When she is creative, she reflects the way You are creative and thereby glorifies You. I ask that You bless her in her hobbies. Thank You for her and the blessing she is to others.
Amen.
Prayer For Mother In Law 8
Father in Heaven,
You walk beside us at all times. I ask that You be a shield and defender for my mother-in-law as she embarks on this journey. Thank You that she is able to travel. I ask that, in her journey, You give her safety. I ask that the logistics of her trip are provided. I ask that she not come into any danger but instead that this trip becomes a blessing to her. Furthermore, in her traveling, may she have time to invest in her relationship with You. In Jesus' name.
Amen.