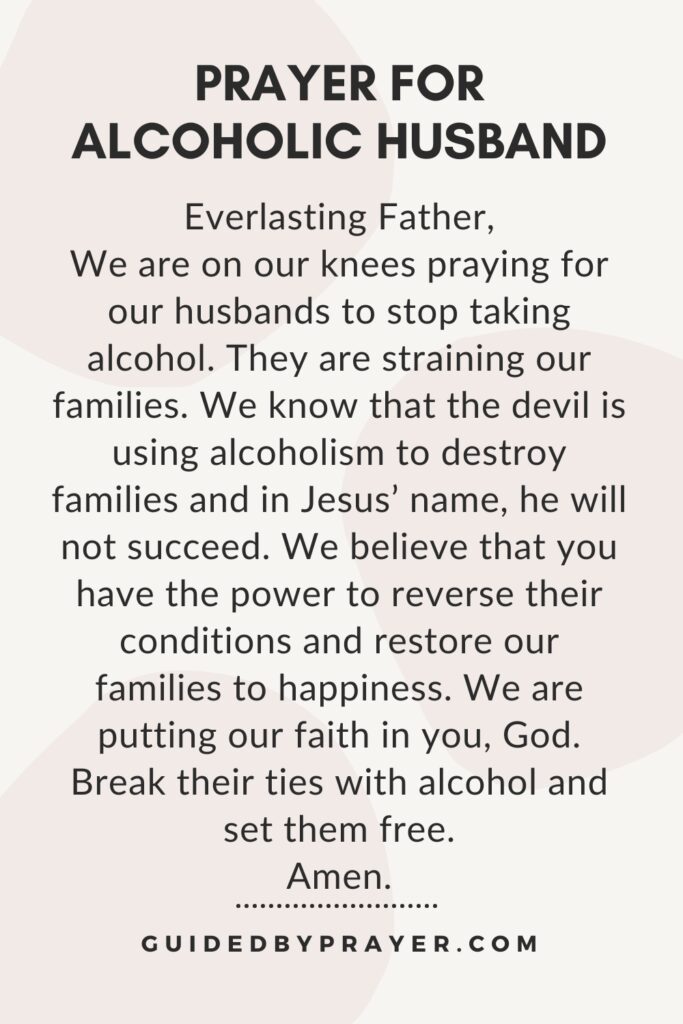 The Prayer for an Alcoholic Husband is a heartfelt and powerful prayer that is often recited by wives and loved ones of those who struggle with alcoholism. Alcohol addiction is a serious and debilitating condition that can have devastating effects on both the individual and those around them, causing emotional, physical, and spiritual pain. This prayer is a plea to God for help and guidance, asking for the strength and courage to cope with the challenges of living with an alcoholic spouse, and to support them on the path to recovery. The prayer acknowledges the difficulties and frustrations of dealing with addiction and the pain that it can cause, but it also affirms the love and commitment of the person reciting it, and their trust in God's healing power. The Prayer for an Alcoholic Husband is a reminder that no one is alone in their struggles, and that there is always hope and the possibility of redemption through the grace of God.
Please read the prayers below which will provide guidance for Prayer For Alcoholic Husband. May God Bless You!
Prayer For Alcoholic Husband 1
Heavenly Father,
I bow before you asking for your intervention regarding our husbands. They are into alcoholism and it is getting worse every day. Deliver them, Lord. Let them understand that their bodies are the temples of the Holy Spirit and they should glorify you with them. Let them put their families first before their worldly pleasures. Reveal yourself to them that they may get to know you and see that you can forgive their sins and deliver them from their bondage. Draw them close to you, Lord.
Amen.
Prayer For Alcoholic Husband 2
Everlasting Father,
We are on our knees praying for our husbands to stop taking alcohol. They are straining our families. We know that the devil is using alcoholism to destroy families and in Jesus' name, he will not succeed. We believe that you have the power to reverse their conditions and restore our families to happiness. We are putting our faith in you, God. Break their ties with alcohol and set them free.
Amen.
Prayer For Alcoholic Husband 3
Sovereign God,
We come before you, standing in the gap for our husbands. They've been bound by the destructive power of alcohol. Help them break free, Lord. Take away the thoughts of alcohol from their minds and replace them with constructive thoughts. Let them get to know you and surrender their desires for earthly pleasures to you. They won't do it on their own, they need you, God. Hold their hands and let them feel your unending love for them. You are our only source of hope.
Amen.
Prayer For Alcoholic Husband 4
Mighty God,
We humble ourselves before you, seeking your help in dealing with husbands who are alcoholics. Give us the strength to be strong for them as they battle this spirit of alcoholism. Let your Holy Spirit minister to them that they may change their ways and keep their bodies pure and pleasing to you. Let them learn of your abundant grace and the love you have for us all even those who see themselves as unworthy. Save them, Lord.
Amen.
Prayer For Alcoholic Husband 5
Lord in heaven,
You are the God of greatness and we come before you praying for a miracle for our husbands who are into alcoholism. Change them. Renew their souls. You've changed people who had done the worst things to be good people in society; people who are now role models to others. Surely, nothing is impossible for you and your works are perfect. Deliver them from this spirit of torment. Set them free. Let them desire to serve you with all they have.
Amen.
Prayer For Alcoholic Husband 6
God in heaven,
We thank you for you know the desires of our hearts. We pray that you fulfill our desire for having happy families. Let our husbands quit taking alcohol. Remove any thought of alcohol from their minds. Give them the focus of getting to know you and let their hearts meditate on your promises of strength, peace and sufficient grace. Let your word nourish their souls.
Amen.
Prayer For Alcoholic Husband 7
Dear Lord,
I come before you today on behalf of my alcoholic husband who has become a slave to alcohol and has been destroying our marriage for some time now. Lord, I bind every demonic spirit, witchcraft working against my husband to ruin our marriage through drinking. I ask that you come now in glorious power, remove these agents of hell assigned to my husband and his addiction so that he can be set free from this bondage today, in Jesus' name I pray.
Amen.