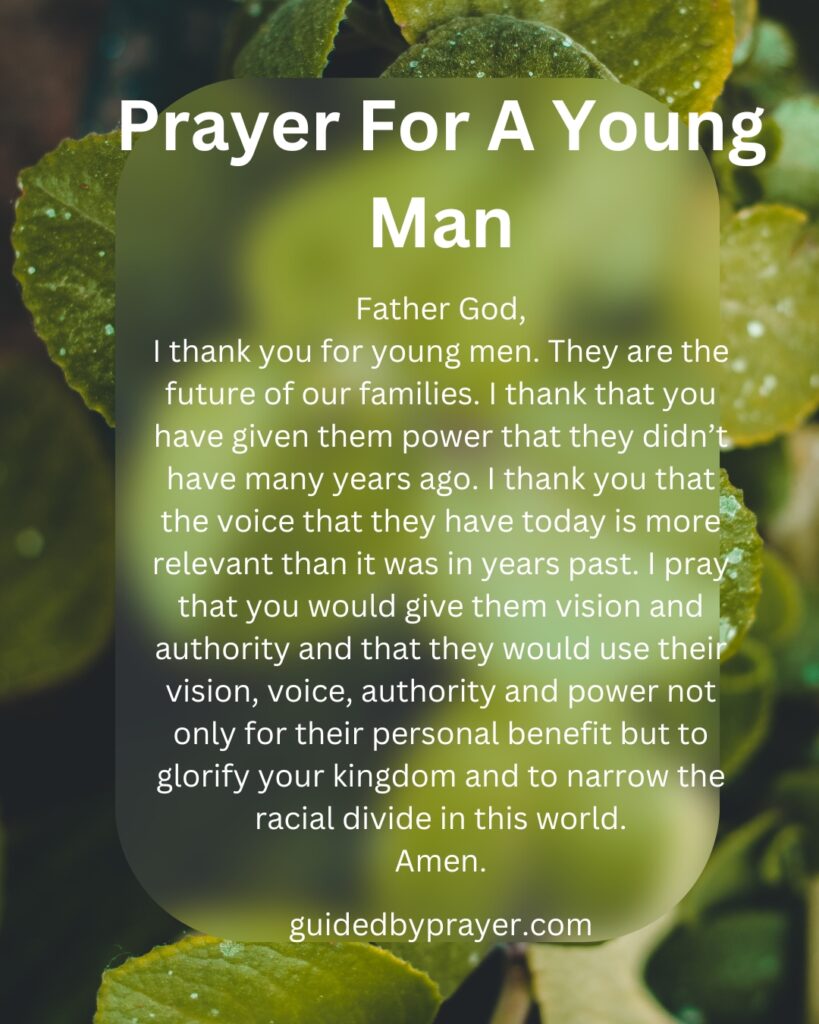 A Prayer for a Young Man is a prayer that is often used by parents, mentors, or loved ones who wish to offer guidance and support to a young man as he navigates the challenges of life. The prayer may vary depending on the individual and the circumstances, but it often includes asking for divine protection and guidance, as well as expressing hope and love for the young man. The Prayer for a Young Man is seen as a way of connecting with the divine and seeking spiritual strength and resilience. It is also a way of affirming the young man's potential and encouraging him to live a life of purpose and meaning. Many people find that this prayer helps them to stay focused on their goals and to overcome obstacles, and that it provides comfort and reassurance in times of doubt or struggle. The Prayer for a Young Man is a powerful reminder of the important role that faith and love can play in shaping the lives of young people, and of the hope and promise that lies ahead for those who seek to live with purpose and integrity.
Please read the prayers below which will provide guidance for Prayer For A Young Man. May God Bless You!
Prayer For A Young Man 1
Father God,
I thank you for young men. They are the future of our families. I thank that you have given them power that they didn't have many years ago. I thank you that the voice that they have today is more relevant than it was in years past. I pray that you would give them vision and authority and that they would use their vision, voice, authority and power not only for their personal benefit but to glorify your kingdom and to narrow the racial divide in this world.
Amen.
Prayer For A Young Man 2
Lord,
You know the hearts of our young kids. I pray that you would grow a desire in them that some would devote a life of service to a ministry. We need honest preachers. We need passionate worship pastors. We need men that will take hold of these desires and run with them. You can do great things, Father, through us and I pray that You will use the Holy Spirit to speak to our adolescent children to grow a passion inside of them that wants to know You more and live for You daily! I love You.
Amen.
Prayer For A Young Man 3
Dear Lord,
I love my children so much and I know that they are learning to love You more daily. Father, I am scared for them because everything around them says You are a lie. I pray that the Holy Spirit will convict them daily to know what is right and what choices they should make. I know that they are only with me for a brief time and I pray that I would be found faithful in Your sight with how I raise them. I will continue to pray with them and encourage them to read their Bibles daily. Lord, I believe Jesus! He said, "I am the way, and the truth, and the life. No one comes to the Father except through Me." (John 14:6) I pray that my children will grow to believe the same way. I put them in Your hands, Father.
Amen.
Prayer For A Young Man 4
O Father in Heaven,
My heart is breaking for the young men and women who are social outcasts. The news tells the same story every single night. Someone is being bullied or shot. Father, this is chaotic! Please, Lord, protect the ones who cannot protect themselves. Some kids are so emotionally traumatized that they have attempted to take their own lives…some have succeeded. Father, I pray that You would place men and women of faith in the paths of these kids to show them that they are special and they are loved. Until they see love they will only continue in the spiral of endless chaos. Father, use me to help in any way! I love You.
Amen.
Prayer For A Young Man 5
Blessed Lord,
I thank You for the men and women that lead teams of missionaries to help spread the truth of the Gospel of Christ. I pray that as our church is planning its next trip that our young men and women will step up and fill the need. I have seen You move on these trips in mighty ways! Many people who needed clothes, shoes and a roof for their head have come to know and love You because of people willing to go on a missions trip. Lord, I will encourage the young people to go, just as You have told us to go in the great commission. I love You.
Amen.
Prayer For A Young Man 6
Lord,
Your Word says "If any of you lacks wisdom, he should ask God, who gives generously to all without finding fault, and it will be given to him" (James 1:5). Lord, I need that kind of wisdom to know when to speak to my son and when to be silent. "Do not let any unwholesome talk, lecturing, judging, or accusing come of my mouth, but only what is helpful for building my son up according to their needs, that it may benefit those who listen" (Eph. 4:29). Let me also be "quick to listen, slow to speak and slow to become angry, for my anger doesn't bring about the righteous life that God desires.
Amen.
Prayer For A Young Man 7
Lord,
I pray that my son will develop an eternal perspective and purpose, not an earthly one. Help him to see life–and every challenge–through Your eyes, eager and unafraid to share with others the good news of Jesus wherever he goes. I pray that they will set his minds on things above, not just what's going on here, and that he will be rooted and grounded in Your love. I pray that he will come to understand the extent of Your own love for him–that it surpasses all the head knowledge they will acquire in school. I pray he will be filled up with You from morning 'til night.
Amen.