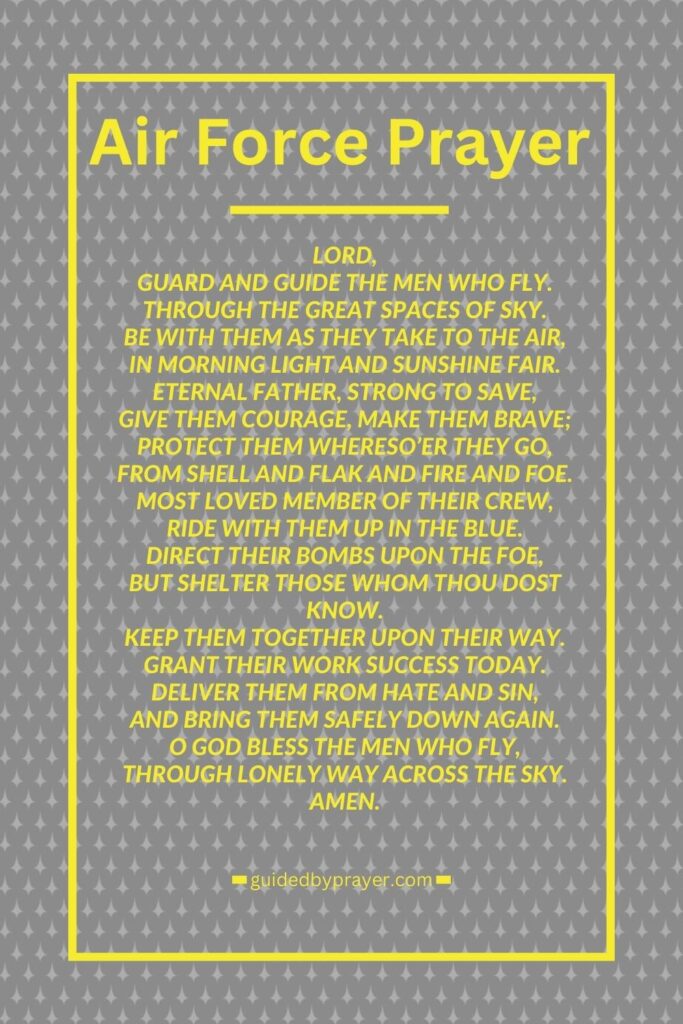 The Air Force Prayer is a spiritual invocation that is deeply ingrained in the culture and history of the United States Air Force. The prayer is a call for strength, guidance, and protection for the men and women who serve in the Air Force, as well as their families and loved ones. It acknowledges the sacrifices and risks that come with military service, and asks for divine assistance in the face of adversity and danger. The Air Force Prayer has been recited by Air Force personnel for decades, and has become a symbol of the deep faith and patriotism that drives those who serve their country. It is a powerful reminder of the importance of spiritual values and beliefs in times of crisis, and continues to be a source of inspiration and comfort for members of the Air Force community.
Please read the prayers below which will provide guidance for Air Force Prayer. May God Bless You!
Air Force Prayer
Lord,
guard and guide the men who fly.
Through the great spaces of sky.
Be with them as they take to the air,
In morning light and sunshine fair.
Eternal Father, strong to save,
Give them courage, make them brave;
Protect them whereso'er they go,
From shell and flak and fire and foe.
Most loved Member of their crew,
Ride with them up in the blue.
Direct their bombs upon the foe,
But shelter those whom Thou dost know.
Keep them together upon their way.
Grant their work success today.
Deliver them from hate and sin,
And bring them safely down again.
O God bless the men who fly,
Through lonely way across the sky.
Amen.
Air Force Prayer 2
O Lord,
our God, who has given us dominion over earth, air and sea.
We ask you to be present with us who are called to serve our country in the Royal Australian Air Force.
Give us courage, a steady nerve and ready mind.
Sustain us in days of preparation, in the daily routine of servicing and weary waiting.
Be with us in time of sudden peril and grant that under your mighty protection we may be preserved in body, soul and mind.
We ask this through Jesus Christ our Lord.
Amen.
Air Force Prayer 3
Oh! I have slipped the surly bonds of Earth
And danced the skies on laughter-silvered wings;
Sunward I've climbed, and joined the tumbling mirth
Of sun-split clouds, – and done a hundred things
You have not dreamed of – wheeled and soared and swung
High in the sunlit silence. Hov'ring there,
I've chased the shouting wind along, and flung
My eager craft through footless halls of air….
Up, up the long, delirious, burning blue
I've topped the wind-swept heights with easy grace
Where never lark, or even eagle flew –
And, while with silent, lifting mind I've trod
The high untrespassed sanctity of space,
Put out my hand, and touched the face of God.
Amen
Air Force Prayer 4
Lord God,
we remember the courage and dedication of those, who in past days took to the air, and pioneered the Royal Air Force we know today. Especially we remember the sacrifice of the few for the many in times of war and strife. Grant that, being inspired by their example, we may follow them in their endeavours to work for a world in which peace and justice reign supreme, through Jesus Christ our Lord.
Amen.
Air Force Prayer 5
Lord God,
Watch over and
protect the Airmen
of our country as
they fly upon their
appointed tasks.
Give them courage
and skill in the
performance of
their duty.
Sustain them with
Your everlasting
arms.
Amen.
Air Force Prayer 6
Lord Jesus,
Mighty Warrior and Prince of Peace, all glory and power is yours, I offer myself and my military career for the welfare of our nation and for your glory.
You said, "Blessed is the nation whose God is the Lord"; make us mindful of our nation's heritage and of who we are. You said, "Be strong and of good courage." This is my prayer. You said, "A King is not saved by his great army; a warrior is not delivered by his great strength"; be my protection and my strength. While I defend the nation, may all of heaven safeguard my family back home.
You called me to be a soldier, march along side me. Jesus, I place my trust in you.
Amen.