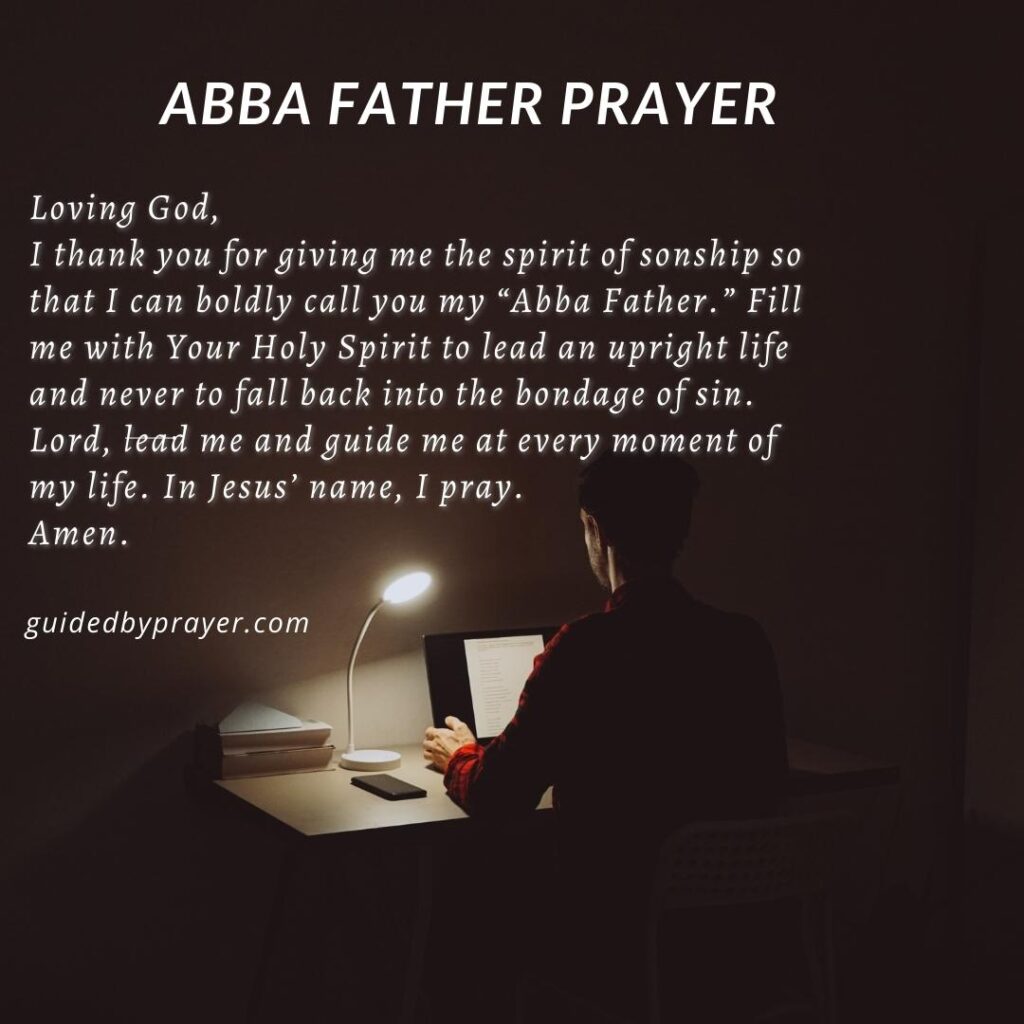 The Abba Father prayer is a Christian prayer that expresses the believer's intimate relationship with God as a loving Father. The phrase "Abba Father" comes from the Aramaic language and means "Dear Father" or "Daddy." This prayer acknowledges God's sovereignty and acknowledges His love and grace towards us, even when we fall short. It is a reminder that we are all God's children and that He desires a close relationship with us. The Abba Father prayer is a powerful affirmation of faith and trust in God's goodness, and it provides comfort and strength in times of struggle or hardship. It is a beautiful expression of the Christian's understanding of God as a loving Father who cares for us unconditionally.
Please read the prayers below which will provide guidance for Abba Father Prayer. May God Bless You!
Abba Father Prayer 1
Abba,
Father, you are the Alpha and Omega, the Beginning and the End. You are the Christ, the Son of the Living God. You are our Creator and our Counselor, guiding us daily to make wise decisions. You are our Comforter in sorrow, pain, or distress. We praise You for drawing near to us when we draw near to You. You are El Roi, the God who sees us, and You are Eternal, Lord. You are our heavenly Father, and the father of the fatherless. How great are You and Your faithfulness, God, day in and day out. You are holy, yet You made a way for us to approach You. We praise You for being our Helper, and for Your Holy Spirit's conviction, correction, and protection in our lives. You are invisible, but we see You with eyes of faith. You are Jehovah God, and Jehovah Jireh, the One who provides for all our needs. We praise You and thank You for Your provision for our lives, our school and the families who rely on scholarship funds to attend our school.We praise You as our Jehovah Rapha, our God who heals, and for being Jehovah Rah, Our faithful Shepherd. You are not just King, but You are King of Kings, and Lord of Lords. It is in the name of Jesus, the name above all names, we pray.
Amen.
Abba Father Prayer 2
My Father in heaven,
How nice is to know that You are my Father and I am Your child! Especially when the sky is overcast my soul and my cross looks more difficult, I feel the need to address You, "Father, I believe in Your love for me!" Yes, I believe that You are my Father in every moment of my life and that I am Your child! I believe that you love me Thy infinite love! I believe that you watch over me night and day, and that hair on my head does not fall without your permission! I believe that, in Your infinite love, you know better than me what is better for me. I believe that, in Your infinite strength you can turn bad into good. I believe that, in Your infinite goodness You can turn all on good to those who love you, even under the hands that hit me, I kiss Your hand which heals me! I believe and pray empower my faith, hope and love! Teach me to always see Your love that leads me in all areas of my life.
Amen.
Abba Father Prayer 3
My Father,
I come into Your presence at the beginning of the day. I'll find the wisdom to not make foolish mistakes, so I know when to speak and when to remain in silence, when to act and when not to. I´ve come to find peace so that nothing makes me anxious and bemused today. I've come to findthe courage to be patient, to not lose hope, to accept disappointment, knowing that you'll all turn to my right. I'll find love, so that I could do absolutely nothing bitter, hard and unkind. I'll start this day with you and I want him to continue with thee, so that it can be a day without anxiety. Father, You are my providence, I know that you would provide all my needs. Father, You are my protector, forbid me this day from all the dark forces, put the cover on the Precious Blood of Thy Son Jesus and surround me by your Angels. I ask You this in Jesus' name.
Amen.
Abba Father Prayer 4
Abba Father,
I consecrate to you (the person's name, members of your family) our home, our anxieties and problems, our enemies and all our compatriots I consecrate to you and to the Eucharistic Heart of Jesus and the Immaculate Heart of Blessed Mary. Help us to experience spiritual renewal so that we can live pure and holy life. Turn all our problems and difficulties in our favour and to Your greater glory.
Amen.
Abba Father Prayer 5
Heavenly Father,
Give me more and more the heart of an intercessor and worshiper to lift up Jesus in every thought and intent of my heart and every word of my mouth. Thank You for the sweet fragrance of Jesus that you say I am. Abba, I belong to You, and Your Spirit inhabits me. Draw me into deeper intimacy with You, looking to You alone, letting Your fragrance fill the room wherever I am, a sweet aroma of life to many. In Jesus' mighty name.
Amen.
Abba Father Prayer 6
Loving God,
I thank you for giving me the spirit of sonship so that I can boldly call you my "Abba Father." Fill me with Your Holy Spirit to lead an upright life and never to fall back into the bondage of sin. Lord, lead me and guide me at every moment of my life. In Jesus' name, I pray.
Amen.