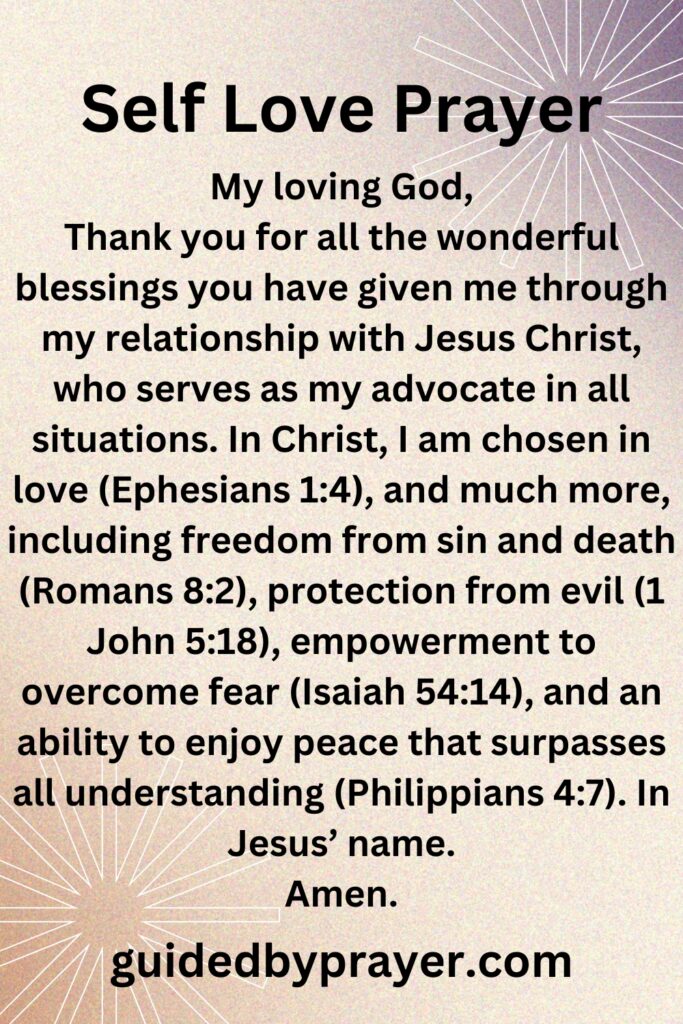 Self-love prayer is a powerful tool that can help you embrace and accept yourself for who you are, while also inviting more love, peace, and happiness into your life. Often, we are our harshest critics, and we tend to focus on our flaws and imperfections instead of celebrating our strengths and successes. However, learning to love and appreciate yourself is essential for a healthy, fulfilling life. Through self-love prayer, you can cultivate a deeper connection with yourself and the divine, fostering a greater sense of self-worth, confidence, and self-compassion. This prayer can be a transformative practice for anyone looking to cultivate a more loving relationship with themselves.
Please read the prayers below which will provide guidance for Self Love Prayer. May God Bless You!
Self Love Prayer 1
My heavenly Father,
You've promised to always be with me, and I know you wouldn't want to be with me constantly if you didn't truly love me. I'm grateful that you're here for me in any circumstances. Please help me be more aware of your presence with me in every moment. Show me how to notice more of your work in my life. Wake me up to the wonder of what you're doing in my soul, through the power of your Spirit living in me. Help me recognize your voice speaking to me, and to enjoy fellowship with you. I believe that the more I notice you, the more I will feel your love for me, and that will help me love myself as you do.
Amen.
Self Love Prayer 2
My loving God,
Thank you for all the wonderful blessings you have given me through my relationship with Jesus Christ, who serves as my advocate in all situations. In Christ, I am chosen in love (Ephesians 1:4), and much more, including freedom from sin and death (Romans 8:2), protection from evil (1 John 5:18), empowerment to overcome fear (Isaiah 54:14), and an ability to enjoy peace that surpasses all understanding (Philippians 4:7). In Jesus' name.
Amen.
Self Love Prayer 3
God of eternal wisdom,
I believe that you have a good purpose for my life. Thank you that your plans for me are for my benefit rather than for harm, designed to give me hope and a future (Jeremiah 29:11). I look forward to the good works that you prepared for my life (Ephesians 2:10). I trust that you will bring your good work in my soul to completion at the right time (Philippians 1:6). I'm glad that in all things – even the most challenging situations I face – you work for the good of those who love you, who have been called according to your purpose. Let me discover more about your purpose for me day by day, and help me fulfill that purpose. In the process, may I experience more of your love and come to love myself as you love me. Thank you.
Amen.
Self Love Prayer 4
Lord God,
I come to you today humbly seeking your guidance and strength. I know that I am not perfect, but I am trying to love myself more and be confident in who I am.I know that you created me just the way I am for a reason and that I have value. Help me to see myself through your eyes and to treat myself with kindness, compassion, and respect.Grant me the strength to overcome my insecurities and let go of negative thoughts about myself. Help me to take care of my body and mind and to fill my life with positive things. Thank you for always being there for me and for loving me unconditionally.
Amen.
Self Love Prayer 5
Creator of the Universe,
We ask that you help us to accept ourselves just the way we are, without judgment. Help us to accept our mind the way it is, with all our emotions, our hopes and dreams, our personality, our unique way of being. Help us to accept our body just the way it is, with all its beauty and perfection. Let the love we have for ourselves be so strong that we never again reject ourselves or sabotage our happiness, freedom, and love.
Amen.
Self Love Prayer 6
Heavenly God, I thank you for this day. I pray that you would fill me with your love.I know that I am not perfect and I make mistakes, but I am trying to improve every day. I can better myself with Your guidance and help.I pray that you would help me to see myself through your eyes. Help me to forgive myself and to love myself as you love me.
Amen.
Self Love Prayer 7
Father God,
wrap me in your loving embrace.Start the healing process in my own body.Let me live with a pure heart devoid of emotional pain.
This short prayer I offer to You, o King of kings.I put my faith and trust in You, always.
Amen.
Self Love Prayer 8
Lord,
Thank you for seeing the best in me, when everyone else only sees the worst in me. Thank you for loving me when I didn't even love myself. Help me to love the person you created me to be, not who others want to see. I am one of a kind, designed to glorify You as only I can! In Jesus name.
Amen.