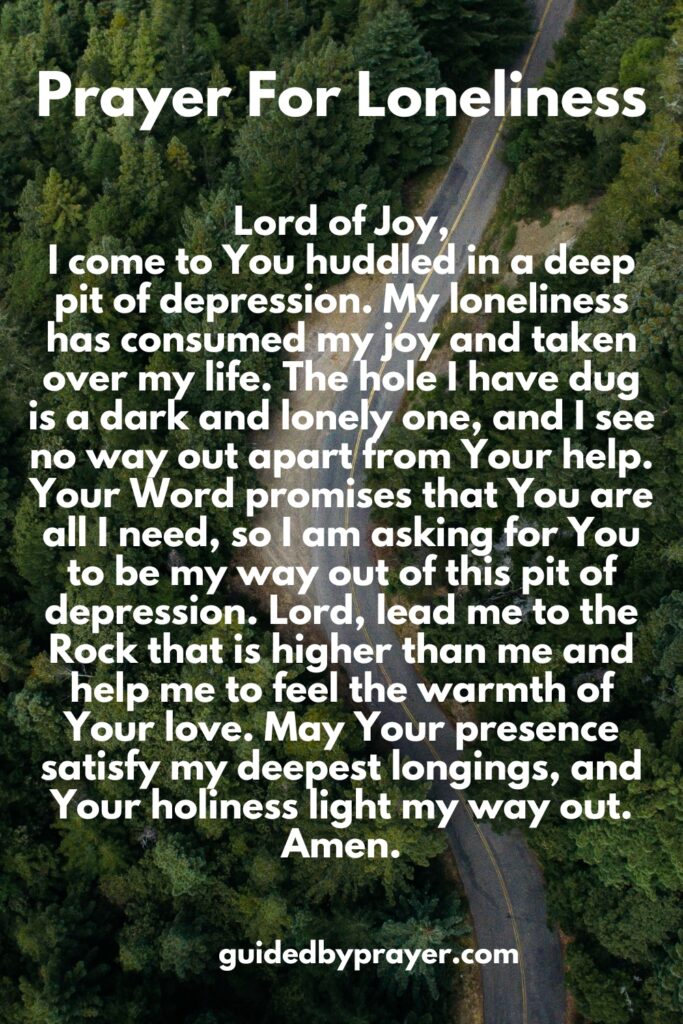 Loneliness is a common human experience that can be painful and isolating. It can affect people of all ages and backgrounds, and it is often linked to feelings of depression, anxiety, and low self-esteem. In times of loneliness, many people turn to prayer as a source of comfort and solace. The Prayer for Loneliness is a heartfelt and powerful supplication that seeks divine guidance and support for those who feel alone and disconnected from others. It is a reminder that no one is ever truly alone, and that God's love and presence can provide the strength and companionship needed to overcome feelings of loneliness. The Prayer for Loneliness is a valuable tool for anyone who is struggling with feelings of isolation and longing for a sense of connection and belonging.
Please read the prayers below which will provide guidance for Prayer For Loneliness. May God Bless You!
Prayer For Loneliness 1
Dear God,
I feel alone. Please bring the warmth of relationships into my life. Please cover my thoughts with hope. Please send your love into my heart. I know you are alive in all I experience. May the birdsong speak to my soul, May the trees remind me of life, May the bread I eat nourish my soul with its goodness, As I connect with the world around me. I give thanks for all those who love me, For all those who care. Help me to receive your hope in my heart, To embrace your life flowing in mine. I know I live and breathe as part of your family And dwell safely in you. I know you understand me. I am not alone.
Amen.

Prayer For Loneliness 2

Almighty and Everlasting Father,
So many of Your children around the world are in bondage to loneliness right now, including me. As I pray for myself, I want to also pray for all the others who are suffering. I pray for Your Holy Spirit to break through and deliver us into a place of healing and refreshment. Grant us the courage to trust in You for everything we need in their lives. Jehovah Nissi, raise Your banner of love over our lives, Your lonely and depressed children, and fill our lives with Your healing presence.
Amen.

Prayer For Loneliness 3

Jehovah Rapha,
The world is full of self-help information on how to heal yourself. I know this is a lie straight from the pit of hell. Anything this world has to offer is only momentary. Lord, I need healing and not something to make me feel better for a while. I am asking for You to ransom me from slavery to loneliness. Your prophet said, "heal me, O Lord, and I will be healed." Your work is not a momentary change, but it is a life-transforming work. Break through my wall of loneliness and bring me out to a place of healing peace.
Amen.

Prayer For Loneliness 4

Lord Almighty,
Answer me quickly so my heart can believe that You are with me. My sadness is stealing my joy and willingness to go on. I feel alone, and my spirit is close to fainting. Please do not hide Your face from me, because I need to feel Your presence. I pray You would break through the cloud of sadness that is hanging over me and bring Your light and joy back into my life. You, Lord, are my only source of joy, and I trust that Your mercies are new every morning. Please show me mercy and fill my heart to overflowing with Your joy.
Amen.

Prayer For Loneliness 5

Lord of Joy,
I come to You huddled in a deep pit of depression. My loneliness has consumed my joy and taken over my life. The hole I have dug is a dark and lonely one, and I see no way out apart from Your help. Your Word promises that You are all I need, so I am asking for You to be my way out of this pit of depression. Lord, lead me to the Rock that is higher than me and help me to feel the warmth of Your love. May Your presence satisfy my deepest longings, and Your holiness light my way out.
Amen.

Prayer For Loneliness 6

Dear God,
My friend is lonely. I have tried to provide comfort, but they say the loneliness is bringing them to a place of despair. They tell me that no one sees them; no one listens or tries to understand. Help me to be a beacon of light and to share Your love and glory. Please comfort my friend. Take their loneliness away and give them a happy spirit. Help them to know You see them. Please guide my friend to ask for help when needed. Thank You, Father.
Amen.