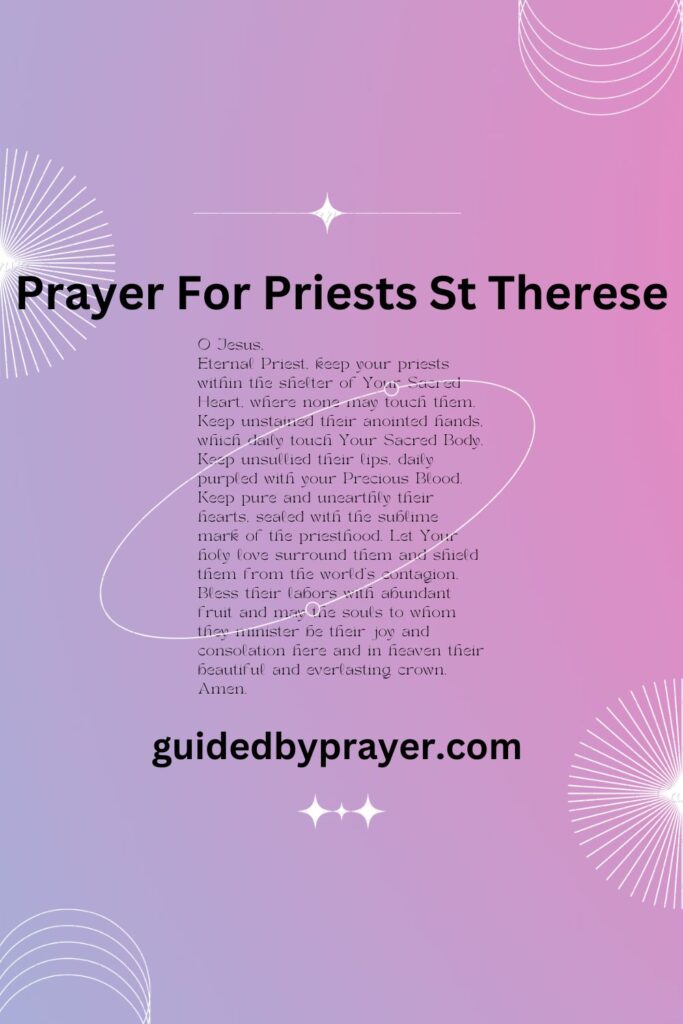 The "Prayer for Priests" is a powerful and poignant prayer that was composed by Saint Therese of Lisieux, a French Carmelite nun who lived in the late 19th century. In this prayer, Saint Therese asks for God's blessing and protection upon priests, whom she describes as the "apostles of the latter days." She prays that priests may be filled with the Holy Spirit, that they may be faithful to their calling, and that they may be granted the grace to lead others to salvation. Saint Therese recognizes the importance of the priestly vocation in the life of the Church and in the lives of individual believers, and her prayer reflects a deep love and reverence for those who have dedicated their lives to the service of God and His people. This prayer continues to be a source of inspiration and comfort for many Catholics today, reminding us of the vital role that priests play in our spiritual lives and encouraging us to support and pray for them always.
Please read the prayers below which will provide guidance for Prayer For Priests St Therese. May God Bless You!
Prayer For Priests St Therese
O Jesus,
Eternal Priest, keep your priests within the shelter of Your Sacred Heart, where none may touch them. Keep unstained their anointed hands, which daily touch Your Sacred Body. Keep unsullied their lips, daily purpled with your Precious Blood. Keep pure and unearthly their hearts, sealed with the sublime mark of the priesthood. Let Your holy love surround them and shield them from the world's contagion. Bless their labors with abundant fruit and may the souls to whom they minister be their joy and consolation here and in heaven their beautiful and everlasting crown.
Amen.