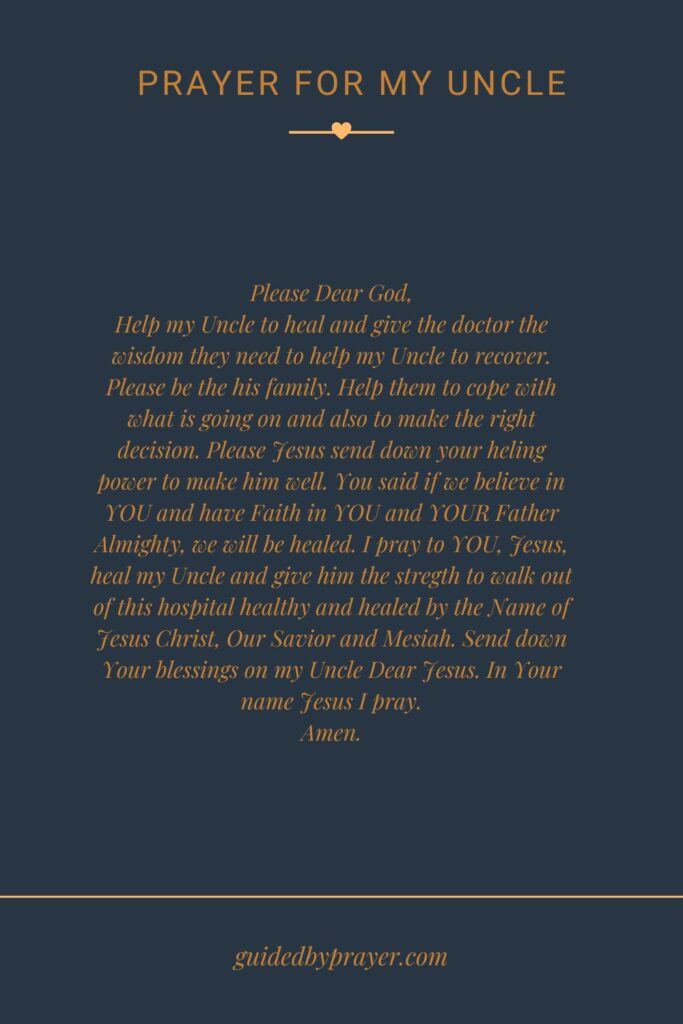 "Prayer for My Uncle" is a sincere and heartfelt invocation that seeks to enlist divine intervention and support for a beloved uncle. The prayer expresses gratitude for the uncle's presence in the speaker's life, and it also seeks to address any challenges or difficulties that the uncle may be facing. The prayer may also ask for strength, guidance, and healing for the uncle and his family, as they navigate through life's challenges. Through the act of prayer, the speaker expresses faith in the power of a higher power to provide comfort and solace during difficult times. Ultimately, "Prayer for My Uncle" is a powerful reminder of the importance of spiritual connection, love, and support in family relationships.
Please read the prayers below which will provide guidance for Prayer For My Uncle. May God Bless You!
Prayer For My Uncle 1
Please Dear God,
Help my Uncle to heal and give the doctor the wisdom they need to help my Uncle to recover. Please be the his family. Help them to cope with what is going on and also to make the right decision. Please Jesus send down your heling power to make him well. You said if we believe in YOU and have Faith in YOU and YOUR Father Almighty, we will be healed. I pray to YOU, Jesus, heal my Uncle and give him the stregth to walk out of this hospital healthy and healed by the Name of Jesus Christ, Our Savior and Mesiah. Send down Your blessings on my Uncle Dear Jesus. In Your name Jesus I pray.
Amen.
Prayer For My Uncle 2
Heavenly Father,
I pray that You will help bring the uncle what is needed, physically, financially and Spiritually to keep him in remission. I also ask that You will comfort him and reassure him with Your peace and love, In Jesus Name.
Amen.
Prayer For My Uncle 3
Father God,
I ask that you give his uncle a speedy recovery. Heal him in his body, whatever is wrong Lord i ask that you fix it. Give them peace and compfort him and his family. May they rest in your presence precious Lord. It says in your word, "by his stripes I am healed ".we thank for a speedy recovery and bring him out with a awesome testimony. That you be glorified Lord. IN the name of Jesus.
Amen.
Prayer For My Uncle 4
Lord,
We bring this prayer request to you and pray for Christ is Lord's uncle's cancer treatment, also bless financially. Lord let you touch and heal him from cancer, Lord bless him with your healing, peace and strength we also pray for his sister, Christ is Lord's mom, let your peace and comfort be upon her. Lord bless this prayer request, in Jesus righteous name.
Amen.
Prayer For My Uncle 5
Heavenly Father,
I am here today to pray for my uncle Olan who needs your intervention and healing. My uncle is in the hospital. I'm praying for a speedy healing and recovery, so we pray God that You grant it to him. Asides You, there's no other Father that listens. Thank You for Your grace and the answered prayer.
Amen.