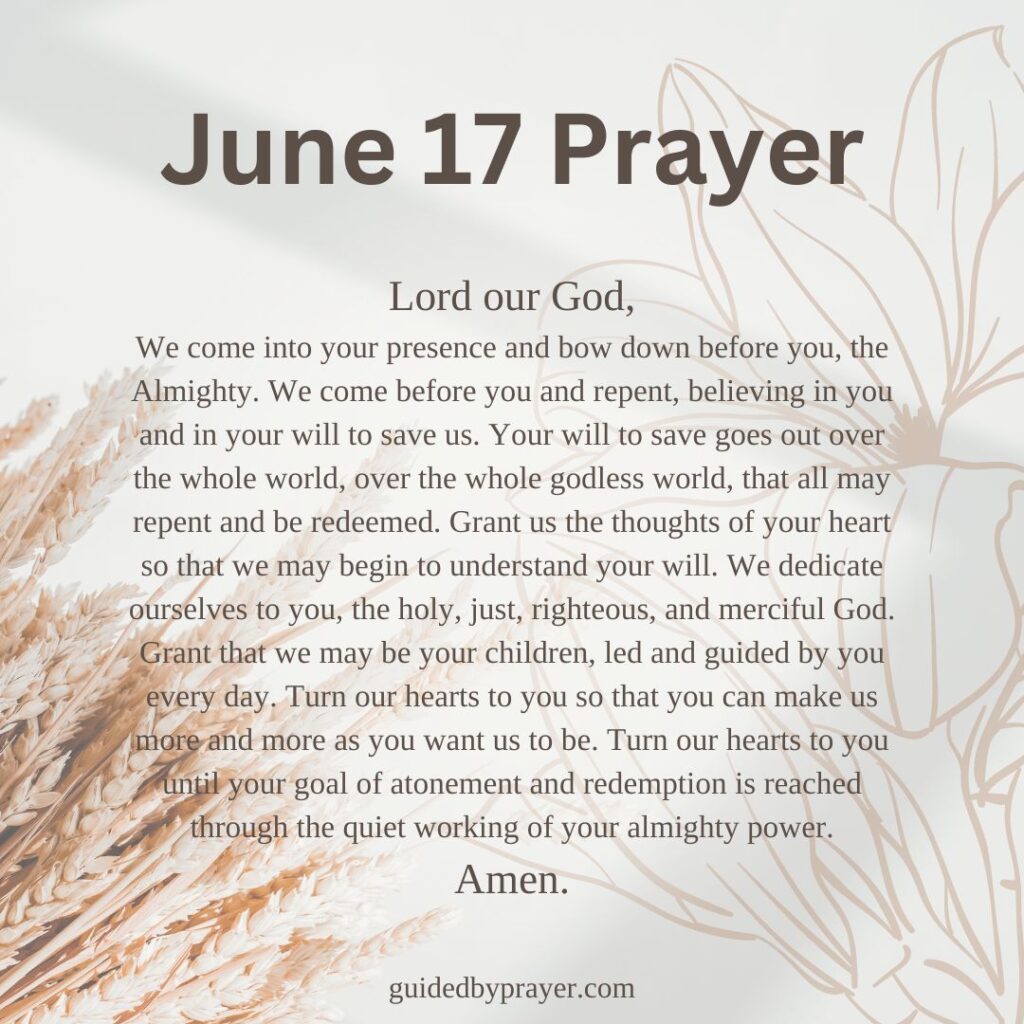 June 17 is a day that is significant to many people, as it offers a chance to reflect on the blessings of life and seek divine guidance as we move forward. On this day, we come together to offer prayers and express gratitude for the many gifts that have been bestowed upon us. We also ask for strength and guidance as we face the challenges that lie ahead, both in our personal lives and in the wider world. Whether we pray in solitude or in the company of others, our intentions are the same: to seek peace, wisdom, and understanding from the divine. May our prayers on this day be heard and answered, and may we continue to grow in faith and love with each passing day.
Please read the prayers below which will provide guidance for June 17 Prayer. May God Bless You!
June 17 Prayer 1
Lord our God,
We come into your presence and bow down before you, the Almighty. We come before you and repent, believing in you and in your will to save us. Your will to save goes out over the whole world, over the whole godless world, that all may repent and be redeemed. Grant us the thoughts of your heart so that we may begin to understand your will. We dedicate ourselves to you, the holy, just, righteous, and merciful God. Grant that we may be your children, led and guided by you every day. Turn our hearts to you so that you can make us more and more as you want us to be. Turn our hearts to you until your goal of atonement and redemption is reached through the quiet working of your almighty power.
Amen.
June 17 Prayer 2
Dear Lord,
You have brought me to this new day again. It is an opportunity from you for me to get the very best of today. I thank you for yesterday, you did well and I am trusting you for a better day today.God, renew my heart today and help me to do what you want me to do. Lord, please forgive my past mistakes and cleanse me. I need much of your strength Lord. Let your joy give me strength today. Lord, help me to experience overflowing joy today, let me have reasons to laugh.I have come to you because in your presence there is fullness of joy, Lord, fill my heart with joy. And I don't want to experience sorrow anymore. I repeat – my joy is the Lord. And I believe you have answered my prayer in Jesus' name.
Amen.
June 17 Prayer 3
O God,
And bring it to perfection by the work of our hands. Hear the prayers of your people who ask for work that will enhance their human dignity and promote the upbuilding of your kingdom. Enable them to provide for those confided to their care either by family ties or by charity we owe to one another for the betterment of human life. We ask this blessing in the name of Jesus who laboured with his own hands while he lived on earth.
Amen.
June 17 Prayer 4
Dear Lord,
Thank You for being good. Thank You for the promise that I can be happy as I trust You. Open my eyes Lord as I read Your Word and think about Your goodness in my circumstances. Help me to taste Your truth and see how You are working in my life. May my life and the joy you fill me with, encourage those around me to taste and see that You are good. In Your Name, Jesus, I pray.
Amen.