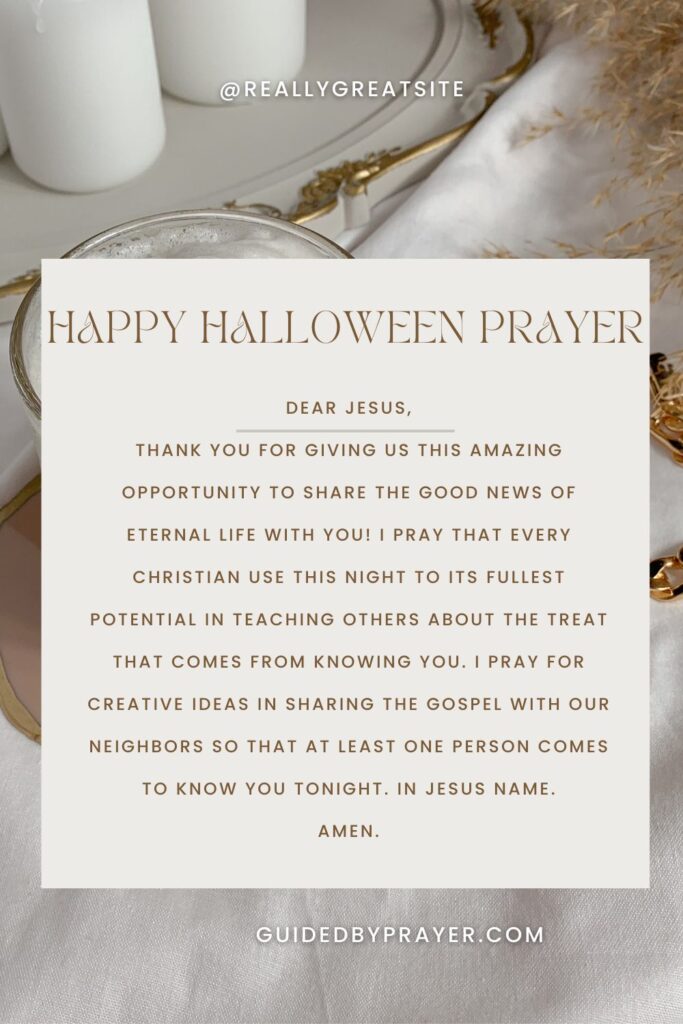 Halloween, also known as All Hallows' Eve, is a festive occasion that is celebrated on October 31st every year. It is a time when people of all ages dress up in costumes, attend parties, and enjoy spooky decorations and treats. However, for many people, Halloween is also a time of reflection and prayer. The Halloween prayer is a way for individuals to acknowledge the spiritual significance of the holiday and seek protection and guidance from God. The prayer is often recited before going out to participate in Halloween festivities, or at the end of the night as a way of expressing gratitude for a safe and fun celebration. The Halloween prayer is a powerful reminder of the presence of God in our lives, even in times of darkness and uncertainty. It is a way for people to connect with their faith and seek comfort and protection on this festive and sometimes eerie holiday.
Please read the prayers below which will provide guidance for Happy Halloween Prayer. May God Bless You!
Happy Halloween Prayer 1
Dear Jesus,
Thank you for giving us this amazing opportunity to share the Good News of eternal life with you! I pray that every Christian use this night to its fullest potential in teaching others about the treat that comes from knowing You. I pray for creative ideas in sharing the gospel with our neighbors so that at least one person comes to know you tonight. In Jesus Name.
Amen.
Happy Halloween Prayer 2
Father,
We know that the enemy uses this particular holiday to his advantage. But we also know that anything the enemy uses for evil, you will use for good. I pray that you simply put the enemy in his place tonight (and all nights)! I pray that each person out enjoying the fun and festivities is protected from the enemy's tactics and that you shut the enemy down at every turn. This night will be for Your glory in every way! In Jesus Name.
Amen.