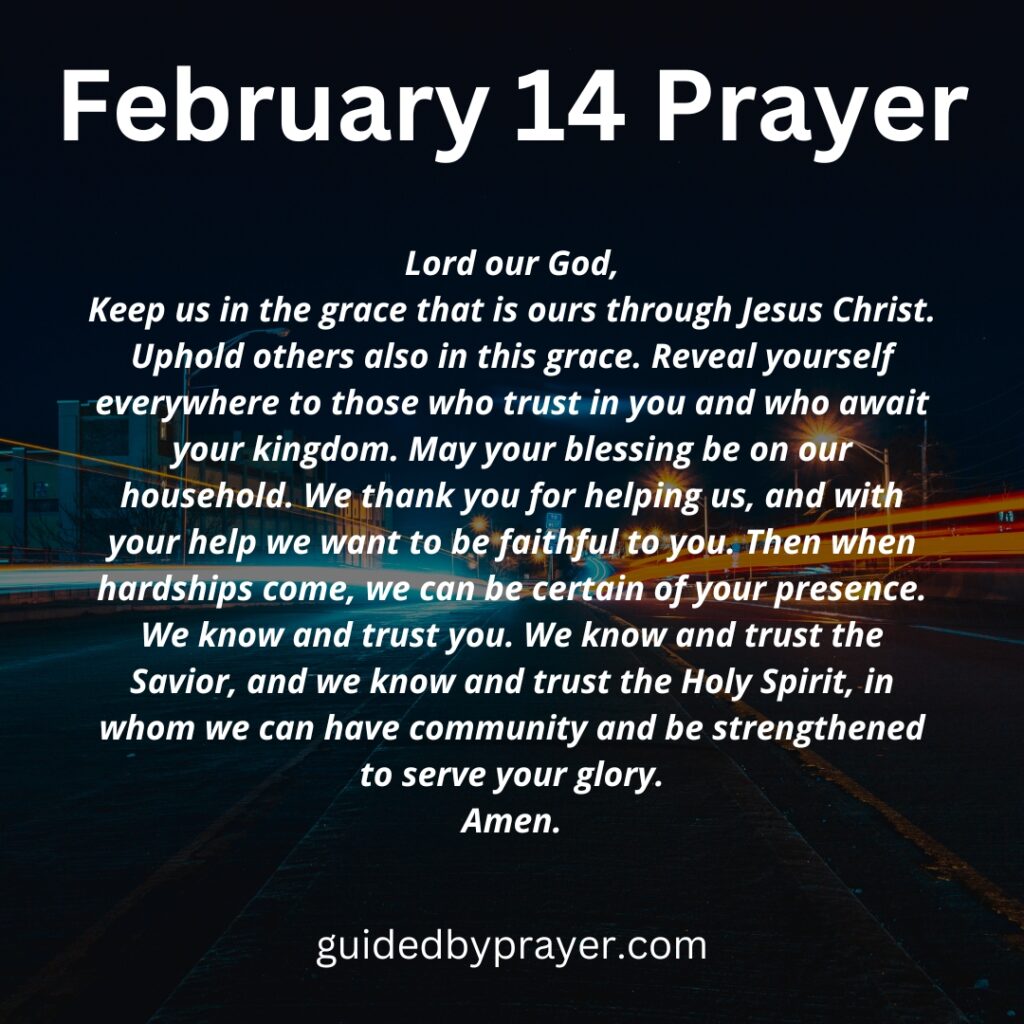 February 14 is known around the world as Valentine's Day, a day dedicated to expressing love and affection to those closest to us. However, for many Christians, February 14 is also a day for prayer and reflection. Known as St. Valentine's Day, it is a time to honor the patron saint of love and marriage, who is said to have performed secret marriages for couples in ancient Rome during a time when the emperor had outlawed marriage. Many Christians use this day as an opportunity to pray for their own relationships and for the marriages of others. Some may attend special church services or participate in prayer vigils. Overall, St. Valentine's Day serves as a reminder of the importance of love and commitment in our lives and the power of prayer in nurturing and strengthening those relationships.
Please read the prayers below which will provide guidance for February 14 Prayer. May God Bless You!
February 14 Prayer 1
Lord our God,
Keep us in the grace that is ours through Jesus Christ. Uphold others also in this grace. Reveal yourself everywhere to those who trust in you and who await your kingdom. May your blessing be on our household. We thank you for helping us, and with your help we want to be faithful to you. Then when hardships come, we can be certain of your presence. We know and trust you. We know and trust the Savior, and we know and trust the Holy Spirit, in whom we can have community and be strengthened to serve your glory.
Amen.
February 14 Prayer 2
Dear Heavenly Father,
I understand that we will all experience those times in life that leave us devastated. Thank you for teaching us through your son Jesus how to help others going through tough times. Give me a heart to serve and a willingness to obey. Show me Your ways, Lord. Sometimes I get overwhelmed looking at the needs around me. I want to help but don't know where to start. I pray for wisdom and discernment as I reach out to others. Whether poor in provision or poor in spirit, You have provided ways I can help. Lead me as I use what you've given me to be the hands and feet of Jesus in my community. With all the tragedies in the world, it's easy to overlook the needs right around me. Direct me to those people in my own family, church, and neighborhood who need the love of Jesus right now. Show me how to be a friend to someone who needs that today. And when I'm in need, thank you for sending someone into my life to offer support and care.
Amen.
February 14 Prayer 3
Righteous God,
I thank you for today – I'm happy because through you, Christ, I can do all things. I can have success in my business, I can have success in my place of work. And I can have success because of the power you have given me. Thank you for the Grace, Lord. I pray that you never let your power depart from me.
Amen.
February 14 Prayer 4
Dear Heavenly Father,
We thank you for your great love for us. There is no one who can ever love us more than you…no one that will ever care about our well-being more than you. You will never leave us or forsake us and your love is the same yesterday, today and forever. May we all find our sense of self-worth and identity in what you think of us and feel for us Lord. We are so loved and cherished by you! Father, on this day there are so many that are lonely…so many who would like to be with someone but are single….so many who have lost their loved ones, to death… divorce …estrangement … Alzheimer's and dementia…addictions or traumatic events that have left their loved ones just a shadow of the person they used to be. There are many who are watching their loved ones in their last days and this day is especially painful.
Amen.
February 14 Prayer 5
Lord,
I pray that this will be a day to focus on you and your great love…your compassion…your healing touch. Romantic love is a wonderful gift, but the love we truly can't live without, is your agape love. May you love be a healing balm on hurting hearts today. For all those who are grieving and mourning and healing today, I pray that you would touch each person as only you can Lord. May they be filled with peace instead of longing. May they be filled with a sense of calm and comfort that defies logic. May they be reminded of precious memories that bring a smile instead of pain…may they sense your presence and the warmth of your Holy Spirit. Please bring people across our paths today that can use a smile or a word of encouragement. Use us to be your hands and feet to show your love to the lost and lonely. Please bless us so we can bless others, Lord. The things of this world will pass away but the three things that will always remain are faith, hope and love. We thank you for the many ways you show your love to us Lord. It is said that the world will know we are Christians by our love…may we grow more and more in love with you Lord and may we share that love with everyone around us. We know you are faithful Lord and you will meet each need that is here. We look forward to all that you have in store for us Lord. In the name of Jesus we pray.
Amen.
February 14 Prayer 6
Dear Lord,
Who art high in the Heavens, Giver of Love and Passion, And He who strings the hearts cords, Lead the Lovers this day, February ten plus four. The day during the month of two, When the date is the perfect number of God Greater two souls and two hearts. Some Loves are fleeting , But that which is built on you will never fail. So guide the Lovers to know what is to be. Your truths the Lovers mouths should speak, For Your truth is that which is honest to the heart. Only this, then, should pass over the red lips of the Lovers. Your art, the Lovers simply a medium. It is only with True Hearts that You can create a Masterpiece, So let the Lovers remember that their Souls Desire Is the one for which You light their Fire. And let it be You who creates the Art of the Lovers; The art of two into one. Amen.
February 14 Prayer 7
Lord Jesus,
Come into my life. I accept You as my Lord and Personal Saviour. I believe in my heart You died and rose from the dead to save me. Thank You Lord for saving me, in Jesus' name.
Amen.
February 14 Prayer 8
Father,
In every way prosper us as a family. Prosper us so we can sponsor Your work on earth. Prosper us so we can be Your kingdom treasurers, joyfully financing your work here on earth, in Jesus name.
Amen.