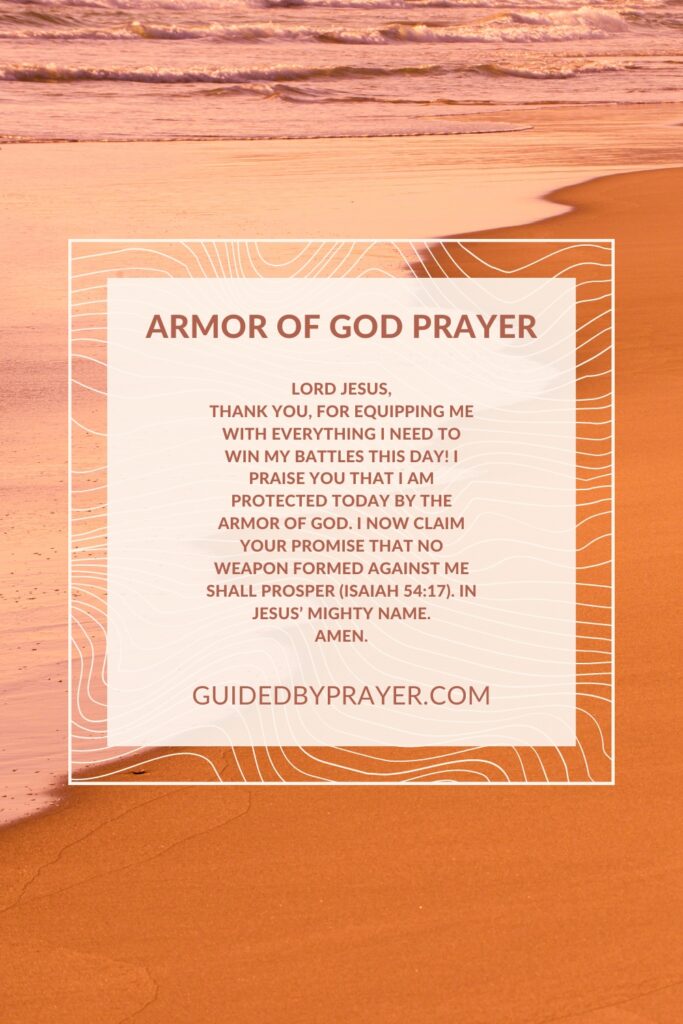 The Armor of God Prayer is a popular prayer among Christians, which is based on the biblical passage from Ephesians 6:10-18. The prayer is designed to help individuals protect themselves spiritually against the negative forces of the world and the devil, and to stand strong in their faith. The prayer involves visualizing oneself wearing each piece of spiritual armor described in the passage, such as the belt of truth, the breastplate of righteousness, the shield of faith, and the helmet of salvation. Through this visualization, individuals can invoke the power of God's protection and strength in their lives, and gain a greater sense of confidence and peace. Whether you are seeking to deepen your spiritual connection or simply looking for a way to stay grounded and protected in a challenging world, the Armor of God Prayer can be a powerful tool for anyone seeking to live a more faith-filled and purposeful life.
Please read the prayers below which will provide guidance for Armor of God Prayer. May God Bless You!
Armor of God Prayer 1
Lord Jesus,
Thank you, for equipping me with everything I need to win my battles this day! I praise you that I am protected today by the armor of God. I now claim your promise that no weapon formed against me shall prosper (Isaiah 54:17). In Jesus' mighty name.
Amen.
Armor of God Prayer 2
Dear God,
Today we put on full armor to guard our lives against attack. We put on the belt of truth to protect against lies and deception. We put on the breastplate of righteousness to protect our hearts from the temptations we battle. We put the gospel of peace on our feet, so we're ready to take your light wherever you send us this day. We choose to walk in the peace and freedom of our Spirit and not be overcome with fear and anxious thoughts. We take up your shield of faith that will extinguish all the darts and threats hurled our way by the enemy. We believe in your power to protect us and choose to trust in you. We put on the helmet of salvation, which covers our minds and thoughts, reminding us we are children of the day, forgiven, set free, and saved by the grace of Christ Jesus. We take up the sword of the Spirit, your very Word, the one offensive weapon given to us for battle, which has the power to demolish strongholds, alive, active, and sharper than any double-edged sword.
We ask for your help in remembering to put on your full armor every day, for you give us all that we need to stand firm in this world. Forgive us God for the times we've been unprepared, too busy to care, or trying to fight and wrestle in our own strength.
Thank you that we never fight alone, for you are constantly at work on our behalf, shielding, protecting, strengthening, exposing deeds of darkness, bringing to light what needs to be known, and covering us from the cruel attacks we face even when we're unaware. In the powerful name of Jesus.
Amen.
Armor of God Prayer 3
Lord,
Help me to always be in constant communication with you. Cause me to be alert, to be joyful and give thanks in everything. In Jesus' mighty name.
Amen.
Armor of God Prayer 4
Lord,
Please place in my hands Your sword of the Spirit, which is Your Word (Ephesians 6:17). May the Holy Spirit help me dive deeper into Your Holy Scripture that comes alive as You speak to me (Hebrews 4:12). Please humble my heart to Your divine teaching, encouragement, and correction.
Stand with me as I defend against Satan's evil schemes, also breaking strongholds in both my own and others' lives. It is only by Your sword that I am able to pierce through the enemy's deceptions!
Father, thank You so much for hearing my prayer. Thank You for offering us such wonderful grace and protection. I commit myself to praise and glorify You!
In Jesus' precious name I pray.
Amen.
Armor of God Prayer 5
All powerful God,
I know you never leave me. I also know that you can defeat the devil. I ask for you to equip me with everything I need to overcome the temptations of the devil. Fill me with the wisdom of the Bible. Give me confidence. Surround me with wise counsel. Give me the resilience to stay the course.
Amen.