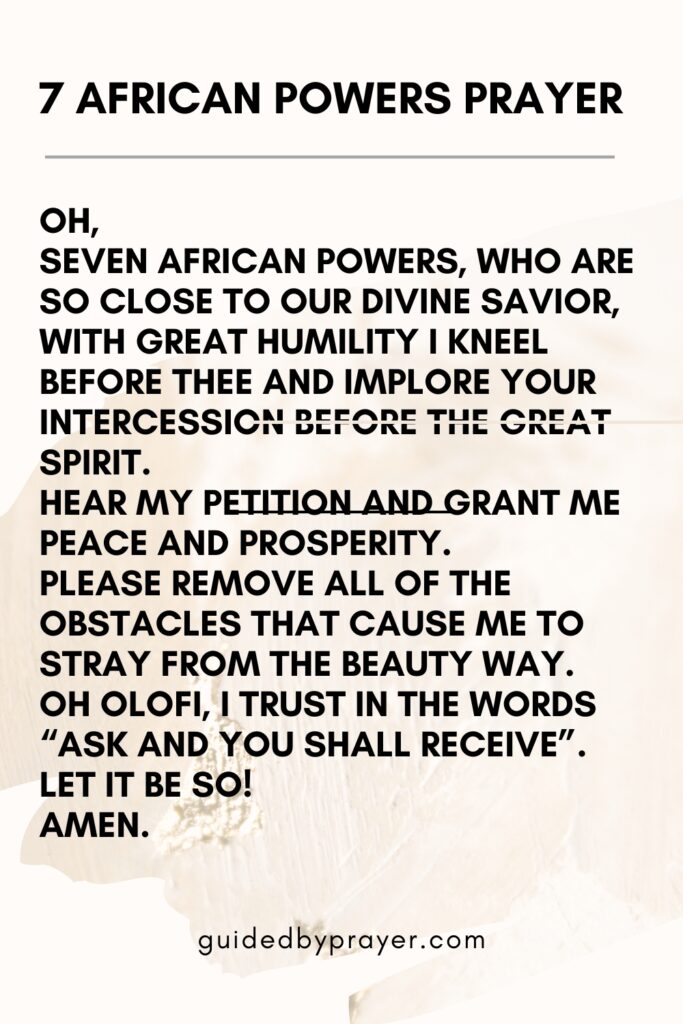 The 7 African Powers Prayer is a spiritual practice that is deeply rooted in the African diasporic religions, particularly in the traditions of Santeria, Candomble, and Vodou. This prayer invokes the powers of seven African deities or spirits, each representing different aspects of life and nature. The seven powers are known by different names in different traditions, but they are usually identified as Elegua, Yemaya, Oshun, Chango, Obatala, Ogun, and Orunmila. The 7 African Powers Prayer is widely used for protection, good luck, prosperity, healing, and guidance. It is a powerful and transformative practice that continues to inspire and connect people of African descent all over the world.
Please read the prayers below which will provide guidance for 7 african powers prayer. May God Bless You!
7 African Powers Prayer
Oh,
Seven African Powers, who are so close to our Divine Savior,
With great humility I kneel before thee and implore your intercession before the Great Spirit.
Hear my petition and grant me peace and prosperity.
Please remove all of the obstacles that cause me to stray from the Beauty Way.
Oh Olofi, I trust in the words "ask and you shall receive".
Let it be so!
Amen.