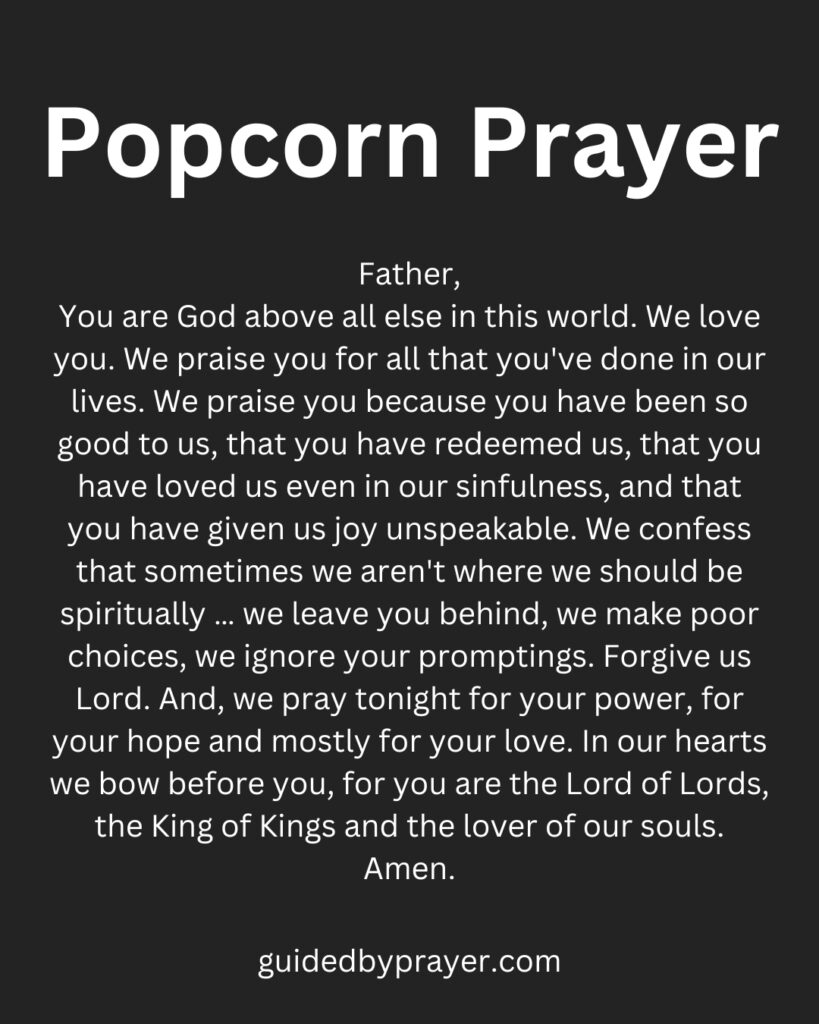 Popcorn prayer is a type of prayer that is often used in group settings, such as Bible studies or youth groups. In popcorn prayer, participants take turns praying out loud, with each person offering a short prayer before passing the opportunity on to the next person. This type of prayer is meant to encourage participation and engagement, and to foster a sense of community among the group members. Popcorn prayer is often spontaneous and informal, and may include prayers of gratitude, supplication, or intercession. This type of prayer can be a powerful way of connecting with the divine and with each other, and of sharing one's hopes, fears, and struggles in a supportive and non-judgmental environment. Many people find that popcorn prayer is a helpful way of deepening their spiritual practice, and of building lasting relationships with others who share their faith.
Please read the prayers below which will provide guidance for Popcorn Prayer. May God Bless You!
Popcorn Prayer
Father,
You are God above all else in this world. We love you. We praise you for all that you've done in our lives. We praise you because you have been so good to us, that you have redeemed us, that you have loved us even in our sinfulness, and that you have given us joy unspeakable. We confess that sometimes we aren't where we should be spiritually … we leave you behind, we make poor choices, we ignore your promptings. Forgive us Lord. And, we pray tonight for your power, for your hope and mostly for your love. In our hearts we bow before you, for you are the Lord of Lords, the King of Kings and the lover of our souls.
Amen.