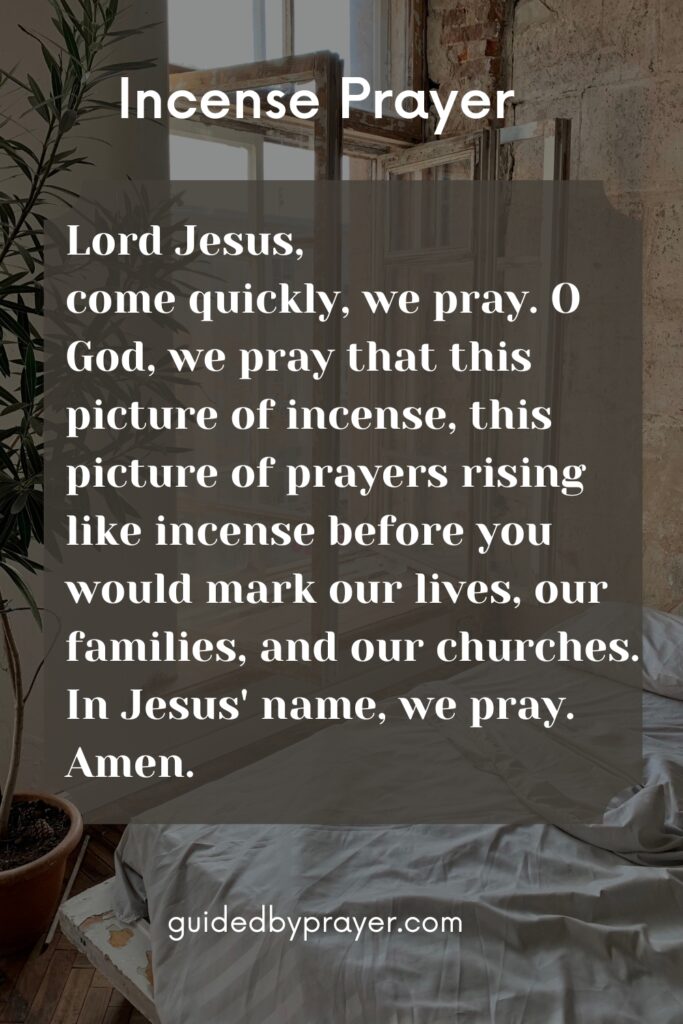 Incense Prayer is a form of prayer that involves the use of incense as a physical representation of one's intentions and devotion. This practice can be found in various religious and spiritual traditions around the world, and it is often used to create a sacred and uplifting atmosphere during prayer and meditation. The use of incense in prayer is believed to have a purifying and calming effect on the mind and body, and it is often associated with the act of offering one's prayers and intentions to a higher power. Incense Prayer can be practiced individually or in groups, and it is often accompanied by chants or other forms of vocal or instrumental music. Whether practiced in a place of worship or in the comfort of one's own home, Incense Prayer is a powerful way to connect with the divine and deepen one's spiritual practice.
Please read the prayers below which will provide guidance for Incense Prayer. May God Bless You!
Incense Prayer 1
Lord Jesus,
come quickly, we pray. O God, we pray that this picture of incense, this picture of prayers rising like incense before you would mark our lives, our families, and our churches. In Jesus' name, we pray.
Amen.
Incense Prayer 2
Lord Jesus,
We take You as our sin offering and trespass offering, and we enjoy You as our peace-offering to be acceptable to God in peace. Lord, we take You in as the bread of life and the living bread to be supplied and nourished with Your divine life. Shine on us, Lord, and enlighten us in Your living word. Lead us to the golden altar to burn the incense through our prayer. Lord Jesus, we offer You to God as our prayer to be the incense acceptable to Him. Lord, make us the priests who have the rich experience of Christ and offer Christ as incense to God in prayer.
Amen.
Incense Prayer 3
He LORD said to Moses,
Take sweet spices, stacte, and onycha, and galbanum, sweet spices with pure frankincense (of each shall there be an equal part), and make an incense blended as by the perfumer, seasoned with salt, pure and holy. You shall beat some of it very small, and put part of it before the testimony in the tent of meeting where I shall meet with you. It shall be most holy for you. And the incense that you shall make according to its composition, you shall not make for yourselves. It shall be for you holy to the LORD.
Amen.