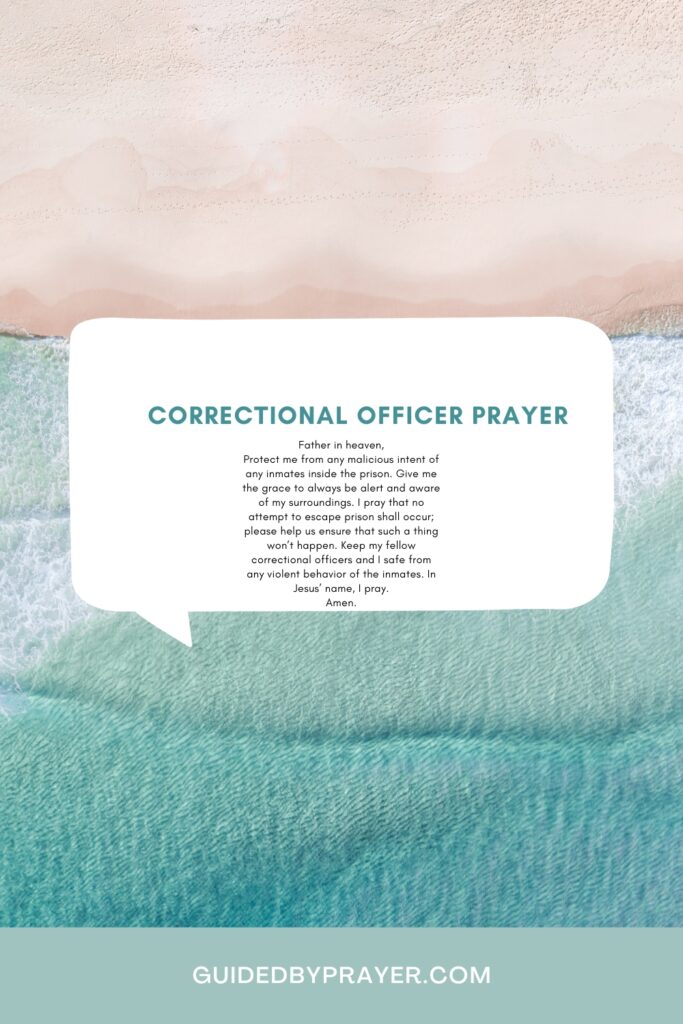 The Correctional Officer Prayer is a powerful invocation that is often used by correctional officers to seek guidance and protection as they carry out their difficult and often dangerous work. The prayer is a way for officers to express their gratitude for the opportunity to serve their community, and to ask for wisdom and strength in the face of the many challenges they may encounter in the line of duty. The origins of the Correctional Officer Prayer are not well documented, but it has become a beloved tradition among officers of all levels of correctional facilities. The prayer is known for its poignant language and imagery, and often includes references to the values of justice, compassion, and dedication. Whether recited alone or as part of a larger community, the Correctional Officer Prayer remains a cherished tradition that brings comfort and inspiration to those who seek to serve their community with honor and dignity.
Please read the prayers below which will provide guidance for Correctional Officer Prayer . May God Bless You!
Correctional Officer Prayer 1
Lord,
When it's time to go inside,
That Place of steel and stone.
I pray that you will keep me safe,
So I won't walk alone.
Help me to do my duty,
Please watch me on my rounds.
Amongst those perilous places,
And slamming steel door sounds.
God, keep my fellow Officers
Well and free from harm.
Let them know I'll be there too,
Whenever there's alarm.
Above all when I walk my beat,
No matter where I roam.
Let me go back whence I came,
To family and home.
Correctional Officer Prayer 2
Lord,
I ask for courage
Courage to face
And conquer my own fears.
Courage to take me
Where others will not go.
I ask for strength
Strength of body
To protect others…
Strength of spirit
To lead others.
I ask for dedication
Dedication to my job.
To do it well.
Dedication to my community…
To keep it safe.
Give me Lord, concern
For all those who trust me…
And compassion for those
Who need me.
And please, Lord
Throughout it all.
Be at my side.
Amen.
Correctional Officer Prayer 3
Father in heaven,
Protect me from any malicious intent of any inmates inside the prison. Give me the grace to always be alert and aware of my surroundings. I pray that no attempt to escape prison shall occur; please help us ensure that such a thing won't happen. Keep my fellow correctional officers and I safe from any violent behavior of the inmates. In Jesus' name, I pray.
Amen.
Correctional Officer Prayer 4
Father in heaven,
Help me be excellent in my work as a correctional officer, knowing that I am working for You. Give me the grace to always strive to glorify You in my work and that my excellence in work shall also be a good example towards my colleagues. Give me the grace to always uphold honesty, uprightness, and integrity as a correctional officer and never take bribes from inmates. As I work, it is You whom I ultimately serve, and You deserve excellence. In Jesus' name, I pray.
Amen.