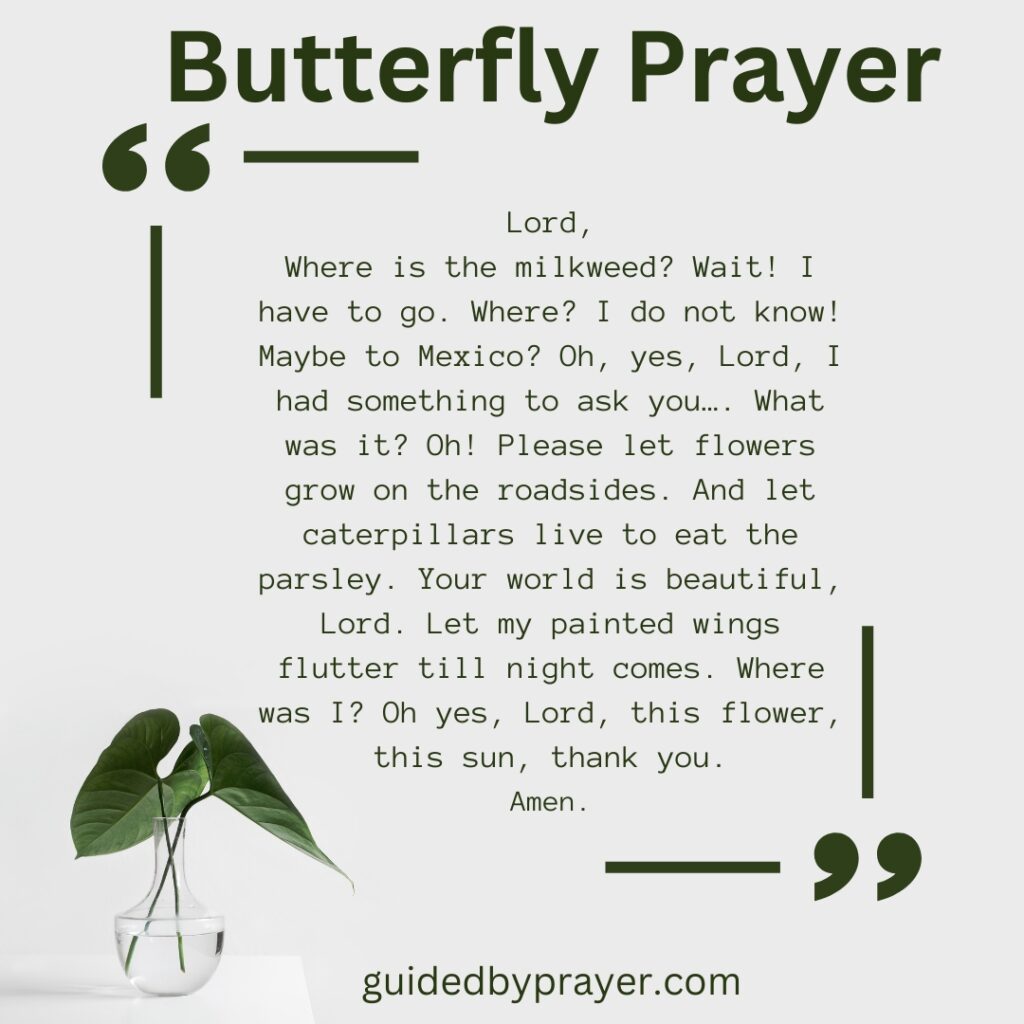 Butterfly prayer is a term that refers to the symbolic transformation that occurs when a caterpillar metamorphoses into a butterfly. This transformation is often used as a metaphor for spiritual growth and the journey of the soul. The butterfly prayer represents the process of shedding old beliefs, habits, and patterns in order to become a more enlightened and evolved being. It is a prayer for transformation, for the ability to let go of the past and embrace the new beginnings that await us. The butterfly is a powerful symbol of rebirth and renewal, reminding us that we too can transform and emerge as something more beautiful and vibrant than we ever imagined possible.
Please read the prayers below which will provide guidance for Butterfly Prayer. May God Bless You!
Butterfly Prayer 1
Lord,
Where is the milkweed? Wait! I have to go. Where? I do not know! Maybe to Mexico? Oh, yes, Lord, I had something to ask you…. What was it? Oh! Please let flowers grow on the roadsides. And let caterpillars live to eat the parsley. Your world is beautiful, Lord. Let my painted wings flutter till night comes. Where was I? Oh yes, Lord, this flower, this sun, thank you.
Amen.
Butterfly Prayer 2
Provident God,
Bless these women who have done so much, been so much, are so much. Thank you for giving them the strength and the courage to be transformed in your grace. Fill them, and each of us, with the resolve to continue to embrace the risk of transformation to which each of us is called.
Amen.
Butterfly Prayer 3
Provident God,
We gather today to celebrate lives well lived. Like the butterfly, these women have undergone significant transformation in their lifetimes. Ninety or more years ago, they were in your mind's eye, but were unknown to us. And then their parents begot them. As they grew, they became more active, and like the caterpillar, they were mobile, trying to figure out where they fit and wondering what you might be asking of them. And another transformation began as they left family and home to follow you. Those days were not always easy. Like the butterfly yet to be winged, as young sisters they were sheltered away in the cocoon of the Woods for the chrysalis stage of their postulancy and novitiate. And like the butterfly in the cocoon, they were in constant transformation…continually changing, growing, transforming, adapting…to become the women You were calling them to be.
Amen.