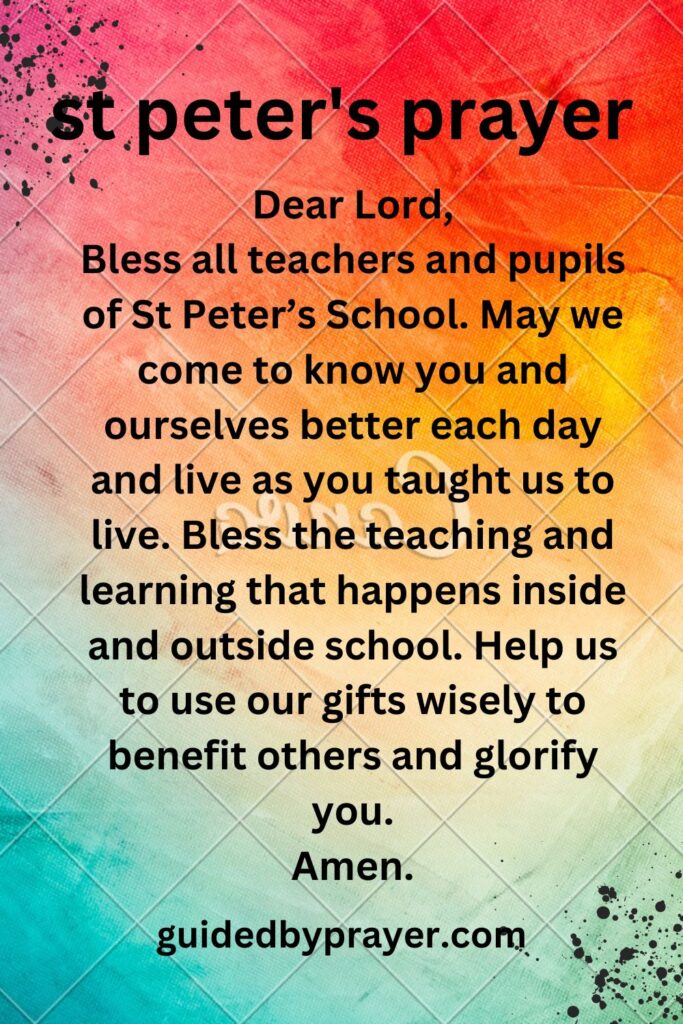 St. Peter's Prayer is a popular prayer in the Christian tradition, particularly in the Catholic Church. It is believed to have been composed by St. Peter, one of Jesus' apostles, and is considered a powerful prayer of intercession. The prayer calls upon St. Peter to intercede on behalf of the supplicant and asks for his protection, guidance, and assistance in overcoming challenges and temptations. The prayer is often recited during times of distress or difficulty, as well as during moments of gratitude and thanksgiving. Its popularity is a testament to the enduring faith of Christians in the power of prayer and the intercession of saints.
Please read the prayers below which will provide guidance for St Peter's Prayer. May God Bless You!
St Peter's Prayer 1
Dear Lord,
Bless all teachers and pupils of St Peter's School. May we come to know you and ourselves better each day and live as you taught us to live. Bless the teaching and learning that happens inside and outside school. Help us to use our gifts wisely to benefit others and glorify you.
Amen.
St Peter's Prayer 2
Dear Lord,
Inspire me to give my best to everything and make good use of the talents you have given me. Help me to be positive about the strengths of other people, even when they have different gifts than me. Help me not to judge others unfairly or before I know them. Help me to always accept other people for who they are and to treat them with respect, no matter what differences we have.
Amen.
St Peter's Prayer 3
O Holy Apostle,
You are the Rock upon which Almighty God has built His Church. Obtain for me I pray you: lively faith, firm hope, and burning love, complete detachment from myself, contempt of the world, patience in adversity, humility in prosperity, recollection in prayer, purity of heart, a right intention in all my works, diligence in fulfilling the duties of my state of life, constancy in my resolutions, resignation to the will of God and perseverance in the grace of God even unto death; that so, by means of your intercession and your glorious merits, I may be made worthy to appear before the Chief and Eternal Shepherd of Souls, Jesus Christ, Who with the Father and the Holy Spirit, lives and reigns forever.
Amen.
St Peter's Prayer 4
O Glorious St. Peter,
Because of your vibrant and generous faith, sincere humility and flaming love our Lord honored you with singular privileges and especially leadership of the whole Church. Obtain for us the grace of a living faith, a sincere loyalty to the Church, acceptance of all her teachings, and obedience to all her precepts. Let us thus enjoy an undisturbed peace on earth and everlasting happiness in heaven.
Amen.
St Peter's Prayer 5
Jesus,
Your dear friend and apostle Peter is a guiding light for our College, Let Peter's way of following you help us to love you more dearly, Peter's willingness to follow you Jesus inspires us. Peter found it difficult at times and needed to struggle in order to be wholly focussed on you; when we find it difficult to follow you we ask for St. Peter's reflective heart which helped him to go back to you. Guide us closer to the dream you have for us. Peter had to ask for forgiveness, give us the courage and open hearts needed to say sorry and to grieve because we have not loved you as much as we can. Jesus you appointed Peter as leader to care for your flock, we ask you to bless us and show us, like Peter how to lead others to you. We make this prayer in your name.
Amen.
St Peter's Prayer 6
O ALMIGHTY God,
Who by thy Son Jesus Christ didst give to thy Apostle Saint Peter many excellent gifts, and commandedst him earnestly to feed thy flock: Make, we beseech thee, all Bishops and Pastors diligently to preach thy holy Word, and the people obediently to follow the same, that they may receive the crown of everlasting glory; through Jesus Christ our Lord.
Amen.