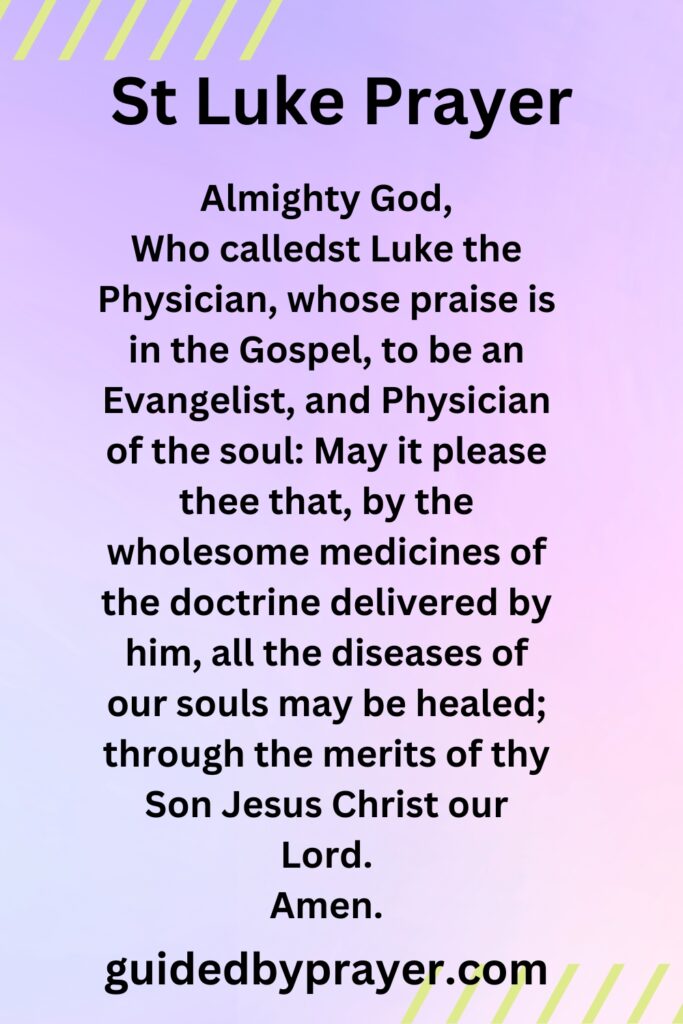 St. Luke was a beloved physician and writer of the Gospel bearing his name, as well as the Acts of the Apostles. He is the patron saint of physicians, artists, and writers. Saint Luke's Gospel is known for its vivid descriptions of events and people in the life of Jesus. The prayer to St. Luke is a petition for his intercession and guidance, especially for those in need of healing, inspiration, and hope. It is believed that St. Luke can help us to see the beauty of the world through the eyes of an artist and the compassion of a physician, bringing comfort and strength to those who seek his aid.
Please read the prayers below which will provide guidance for St Luke Prayer . May God Bless You!
St Luke Prayer 1
Almighty God,
Who calledst Luke the Physician, whose praise is in the Gospel, to be an Evangelist, and Physician of the soul: May it please thee that, by the wholesome medicines of the doctrine delivered by him, all the diseases of our souls may be healed; through the merits of thy Son Jesus Christ our Lord.
Amen.
St Luke Prayer 2
O St. Luke,
You were chosen to reveal in preaching and writing God's love for the poor. Moved by the heavenly Spirit of Love, you detailed the life of Jesus, showing His divinity and His genuine compassion for all human beings. Help those who already glory in God's name to persevere in one heart and one mind, and inspire all people that they may hear the Good News of Salvation.
Amen.
St Luke Prayer 3
Let holy Luke,
Thine Evangelist, we beseech Thee, O Lord, intercede for us, who for the glory of Thy name ever bore in his body the mortification of the Cross. Through our Lord Jesus Christ, Thy Son, Who liveth and reigneth with Thee in the unity of the Holy Ghost, one God, world without end.
Amen.
St Luke Prayer 4
St. Luke,
Please help me to grow in grace and holiness, but above all, that I may rest with thee in eternity, help me to do God's will each and every day to the best of my ability. Help me to hear my Father's voice and love all with all my heart. Dear St. Luke, I love you. Thank you for your help.
Amen.
St Luke Prayer 5
Good Saint Luke,
We are told that before you met our dear Lord and became a follower of His and a writer of His Gospel, you were a doctor. We beg you this day to bless and help and protect our doctor. Obtain for him the graces he most needs to do his work well and serve God generously. Help him to be strong and gentle, prudent and charitable, understanding and self-sacrificing. Give him great skill in the care of our bodies, so that, blessed with physical strength and health, we may more faithfully perform our daily tasks.
Help us all, good Saint Luke, to imitate very closely the life and virtues of our Blessed Mother Mary, about whom you wrote so beautifully, and of Him whom she bore into this world, Jesus Christ our Lord and our God, who lives and is King for ever and ever.
Amen.